Wholesale Virgin Hair Vendors
Are you looking for vendors supplying high quality virgin hair at wholesale amount with the best price? Then this blog is for you.
I. What is virgin hair
When purchasing hair extension or hair wig, you may see a lot of phrases such as raw hair, virgin hair, Remy hair or non-Remy hair. Now, here is all what you need to know about virgin hair and wholesale virgin hair vendors.
If hair is labelled as virgin hair, it means that the hair is 100% human hair that hasn't been chemically processed such as bleaching, dying, or perm and the cuticles stay intact. Virgin hair mostly originates from India, Cambodia, Burma and Vietnam, where provide top best hair to create virgin hair. India virgin hair has already been popular for the affordable price in the market for years. In recent years, virgin hair from Cambodia, Burma and Vietnam also have been gaining significant reputation for the top quality with reasonable price.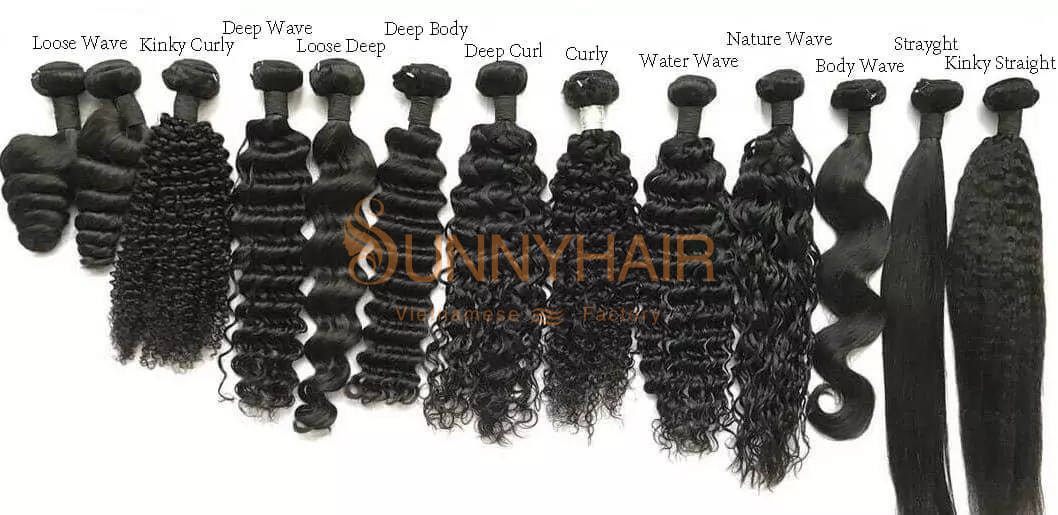 II. Why virgin hair is good
There are variety of reasons why virgin is outstanding in all kinds of hair extension and hair wig.
The first is that virgin hair stays true to the natural look of hair. Plus, they are even processed to have a healthier and shinier look than the original hair. Natural glorious beauty is what virgin hair can bring to you. Virgin hair is buttery soft, silky smooth yet still has healthy cuticles, which makes the hair endurable and long-lasting.
Unlike raw hair with limited hair styles, virgin hair has a much more variety of hair styles. Even though virgin hair is 100% non-chemically processed, it still can be styled with heat or steam process in order to be curly or wavy or straight.
Amazing texture together with diverse style options are what virgin hair is the top choice when it comes to hair extension or hair wig.
1. Virgin hair vs raw hair
Raw hair is 100% human hair and not undergone any chemical or heat process. Just completely hair cut from donors and then made into a bulk or weft to sale.
Virgin hair is also 100% human hair and not undergone any chemical process. However, it DOES have heat processing to create a nicer texture and longevity to the hair.
If you're a hair professional or a hairdresser, raw hair is the best material when you want to design your own hair wig or process the hair extension in your own way.
If you are a hair supplier with most customers using daily hair extensions, then virgin hair may meet more demands of the consumers.
Then which one is better? It really depends on your needs and preference.
2. Virgin hair vs Remy hair
Remy hair is the common term used in hair industry to refer to the hair wig or hair extension that are:
- made of 100% human hair.
- average to massive chemically processed to variously style the hair.
- the most important trait that sets Remy hair from others is that the cuticle is about 90% intact, which helps all hair strands to flow in the same direction and minimize tangles or shedding.
Both virgin hair and Remy hair are 100% human hair. Virgin hair is styled only by using heat. Remy hair is styled by using chemicals. Remy hair has more variety of styles and colours. Virgin hair has better texture as it isn't undergone any chemical treatment.
III. Which is the best virgin hair
The virgin hair might be labelled as Brazil hair, Peruvian hair. However, virgin hair mostly originates from India, Cambodia, Burma and Vietnam, where provide top best hair to create virgin hair. Countries with thriving hair market like Brazil and China usually import hair from these countries to manufacture to a completed hair product. Each hair origin has its own distinctive features.
India hair is thick, dense and coarse.
Vietnam hair is soft, smooth, naturally shiny and thick.
Cambodia hair varies up to 3 different textures. The hair can be either silky or thick or coarse.
Depending on the personal preference, choose your fav one!
IV. Virgin hair styles
V. Where to buy virgin hair at wholesale amount
There are abundant wholesale suppliers around the world. Choosing authentic ones with reasonable price is not easy at all.
Buying the hair from its original place is usually cheaper and more quality-guaranteed. If virgin hair is your pick, then you should look for places that virgin hair usually originates from. In the case of virgin hair, India, Cammbodia, Vietnam, Burma are some popular names of virgin hair.
Now, these are some ways to look for a transparent hair vendor.
Websites
The place that the hair come from usually locates far way. That's why the first place to get information is the website on the internet. Using keywords of "virgin hair" with the country you want like "Vietnam wholesale virgin hair", "Cambodia wholesale virgin hair", etc. There would be variety of research results.
Next step is to visit several websites and make comparison in terms of product variety and prices. Bear in mind that the wholesale prices might be different from the displayed prices on websites for retail customers.
When you have some names of vendors, now it's time to decide which one will be the one. Try to get consults from the vendor to see how professional the service. Prestigious vendors often have professional assistance.
2. E-commerce platforms
Each area has its own e-commerce platforms such as Alibaba in China, Shopee in South East Aisa or E-bay in America. You don't necessarily have to purchase from these e-commerce platforms. But reading reviews on these platforms is trustworthy as people actually have to buy products to be able to give reviews.
3. Social media
Social media is an objective way to evaluate a hair vendor. You should check a hair vendor social media along with websites to get to know more about their products and how people interact with those vendors. Videos that show the real products are usually updated on social media rather than websites. That's why social media of hair vendors should be carefully checked too. Plus, texting and getting consults from the sellers on social media is also much more convenient than mailing or making phone calls.
4. Ask for business profile
Contact to them through WhatsApp hotline, ask for their business profile to see how long have they been in this hair business or ask them when did they start selling Laos hair. Making video phone calls if you intend to make deal with the hair vendors. Seeing how they response also give you materials to check their professionalism and prestige.
5. Deal with the hair supplier
After choosing a hair vendor that you want, now it's time to deal about the price. Many hair vendors don't display their wholesale price on official platforms. That's why you need to ask about details like shipping fees or any additional fees.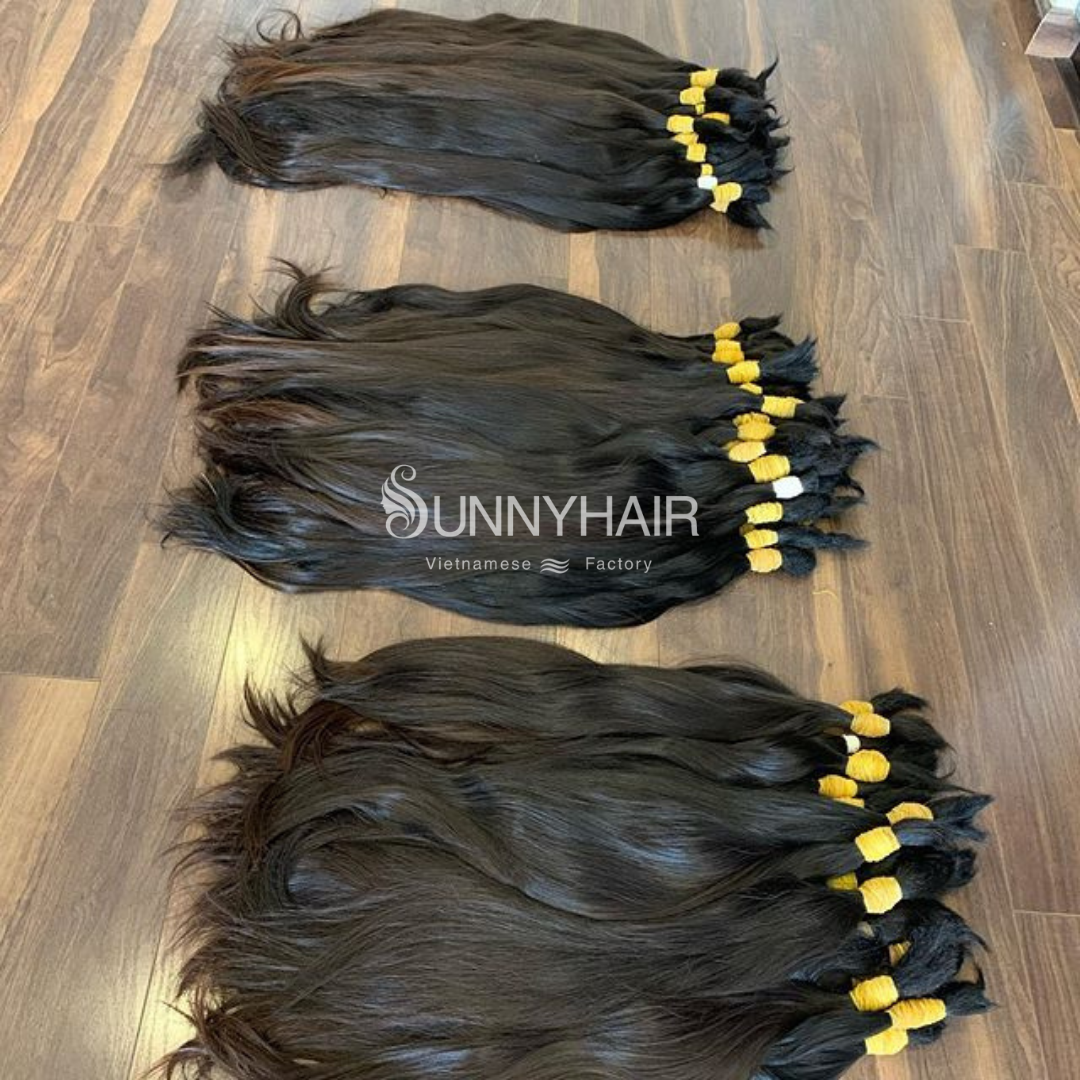 VI. Wholesale virgin hair price
The table price below is just the average price of virgin hair generally. The eventual hair price may vary upon vendors.
VII. Virgin hair care
How to properly take care for virgin hair
With proper care, virgin hair maintenance can optimize its longevity. That's why knowing how to well care for your hair extension is very important.
2. Storing hair extensions
After removing your clip-in hair extensions, ensure that all of the clips are closed shut. When prepping your extensions for storage, we always recommend brushing the set. Always make sure you store your extensions in a cool and dry place away from direct sunlight (like a closet, cabinet or dresser drawer). Also, ensure your extensions are completely dry when storing them to prevent mold and other bacteria from growing.
Quick tip: You can also even gently knot the hair together if you want a light wave running throughout the hair the next time you wear your extensions.
3. Products to avoid
Using proper products (sulphate-free and alcohol-free products) is one of the most important things to take into consideration when caring for your hair extensions. This will make all the difference in whether your extensions will tangle or stay soft and manageable.
Using sulphate and alcohol products strip the hair of its natural oils which, in turn, makes the hair drier and more prone to tangling or matting. Prolonged use of these ingredients shorten the lifespan of your hair extensions significantly especially keratin, and tape-in hair extensions.
Always be sure to do one simple thing before you buy any product…flip it over! Not all companies claiming to make sulphate-free shampoos are truly free of sulphates. This is why it is important to know what to look for when reading ingredients.
Additionally, using sticky products such as hair spray, hair gel, or hair wax, can and likely will clog up your extensions. Furthermore, the more products you use, the more you will need to wash them. Remember, over washing leads to dry and tangled extensions.
4. How to brush hair extensions properly
Make sure that you are always gentle with your extensions and that you brush them properly as this can also affect their lifespan. First, gather all the hair together by stacking all of the wefts on top of one another. Then, carefully brush out the extensions from the bottom of the hair slowly working upwards towards the root. If you come across a particularly pesky knot, take out the individual weft and brush it through gently. Never brush the extensions when they are wet as this is when it is the most susceptible to breakage. Instead, brush them before washing or once they are 90% dry.
5. Prevent tangling
Even when extensions are claimed by wholesale vendors to be made of 100% human hair, tangling is a normal occurrence with not just your natural hair but all types of hair extensions. This can happen due to a lack of constant brushing, weather, or dryness.
Weather can also contribute to tangling, whether it is due to the wind, humidity, or heat. Humidity adds moisture to the environment, causing hair to frizz and tangle. Heat will do just the opposite as it will dry it out. Thankfully, there are some simple ways to ensure that your Sunny Hair extensions remain smooth and tangle-free. First, be sure to brush the extensions periodically throughout the day by using a wide-tooth comb. Always have a brush on hand so that you can give your hair a quick brushing. If it's a particularly windy day, you can tie your hair up.
Along with brushing your hair to prevent matting and tangling, starting at the source and using proper hair care products make all the difference in whether extensions will tangle or be soft and manageable. Use products specifically formulated for dry and damaged hair, as they will help keep the strands healthy and nourished. Also, look for ingredients that add moisture to the hair like argan oil, coconut oil, castor oil, and so on. Purchasing sulphate-free and alcohol-free products is a necessity so that the hair can prevent hair from becoming more prone to tangling or matting.
6. Reduce shedding
Just like your natural hair, extensions will shed. Shedding is a common occurrence with hair extensions, and even your own natural hair. Keep in mind, extensions are more likely to shed when they are dry and brittle.
The first and quite possibly one of the most important steps is to brush your extensions out before washing them and only once the hair is 90% dry. This helps minimize the possibility of breakage and shedding during the washing and because the hair is at its weakest point when wet.
Washing your extensions too much or using products that contain sulfates and alcohol will strip the hair of its moisture which causes them to shed. Additionally, using a high temperature increases the risk of damaging the hair. Therefore, we highly recommend to only use a low heat setting of 120C/250F. While our own hair may be able to handle a high heat setting due to constantly getting revitalized from the scalp, whereas hair extensions don't receive the same amount of nutrients or oil in order to look silky and shiny.
Also, take into consideration that the more products you use, the more you will need to wash your extensions, so the best way to reduce shedding is to use a minimal number of products. If you want more hold when curling your extensions, try pinning up the curls and leaving them overnight to ensure the curls stay in place without the use of hairspray. If you do want to reach for hairspray, consider a lightweight formula which you can still easily brush hair through. Extra strength hair sprays will clog up your extensions, which means more washing.
7. Dry hair extensions
We don't recommend blow-drying your extensions after every wash as doing this constantly will make them dry and more vulnerable to breakage. If you must blow-dry your extensions, be sure to use a heat protectant spray prior to blow-drying to extend the lifespan of your hair extensions. If you need to use your extensions immediately after washing them, the most important thing is to ensure that you are blow drying on a cool setting to prevent any heat damage and that you don't brush the hair until it is 90% dry. Use your fingers to gently loosen any tangles. Always blow-dry downwards as this will help to not only smooth the cuticle but it will also prevent the hair from getting tangled since it is being blown in lots of different directions.