Vietnam Hair
Vietnam hair has a high quality and definitely, and it is one of the most well-known in the Southeast Asia regions. Also, many foreigners find it very amazing to use it.

WHY YOU SHOULD CHOOSE VIETNAMESE HAIR EXTENSIONS?

First, Southeast Asian Hair, in particular Vietnamese Hair is famous for its strong, thick and healthy cuticles. Therefore, it can last long and durable other kinds of hair after being curled, and straightened.
Second, the Vietnamese hair has some beautiful waves and has a natural shine. In fact, this hair has gained so much popularity owing to it being healthy, smooth and shiny.
VIETNAMESE HAIR PRODUCTS
We have a system of hair collection with over 5 tons of hair every month. We have collected natural hair from every woman around the nation. We can guarantee about our products that they are from completely Vietnam (the best-unprocessed hair), completely REMY hair (without processed hair and all hair, from root to top, towards the same direction).
Sunny Hair Vietnam provides a wide range of hair products including clip-in hair extensions, keratin tip hair extensions, tape-in hair extensions, machine weft, and bulk hair, and wigs made from 100% Vietnamese human hair.
WHY SUNNY HAIR VIETNAM
- Direct-to-customer human hair manufacturer in Vietnam
- 100% human hair collected from healthy donors fairly & freely
- No chemical processes
- Wide range of colors/lengths (Customizable)
Trading Office: A8 Laser Block, 59 Hoang Cau Str. Dong Da Dist., Hanoi, Vietnam
Factory Address: Dong Bich Village, Thuan Thanh Dist., Bac Ninh City, Vietnam Factory Address: Dong Bich Village, Thuan Thanh Dist., Bac Ninh City, Vietnam
Client's Review see at: trustpilot.com
THE PRICE LIST
Sunny Hair Vietnam Human Hair Supplier offers the Best Wholesale Price List for our high quality hair extensions as below:
For further information or special requests, please feel free to contact us by email form or contact us via
WhatsApp: (+84) 988 767 599 | (+84) 985 767 599
Instagram:
English: sunnyhairvietnam | vietnam_hair_vendor
Portuguese: cabelo_humano_vietnamita
Spanish: cabello_humano_vietnamita
Facebook:
English: Sunny Hair Vietnam
Portuguese: Cabelo Humano Vietnamita
The Price List 2021 can be download at HERE
*Please note not all products are on the price list below, and the price is not included shipping fee and payment fee.
MACHINE WEFT HAIR

MACHINE WEFT HAIR - BONE STRAIGHT HAIR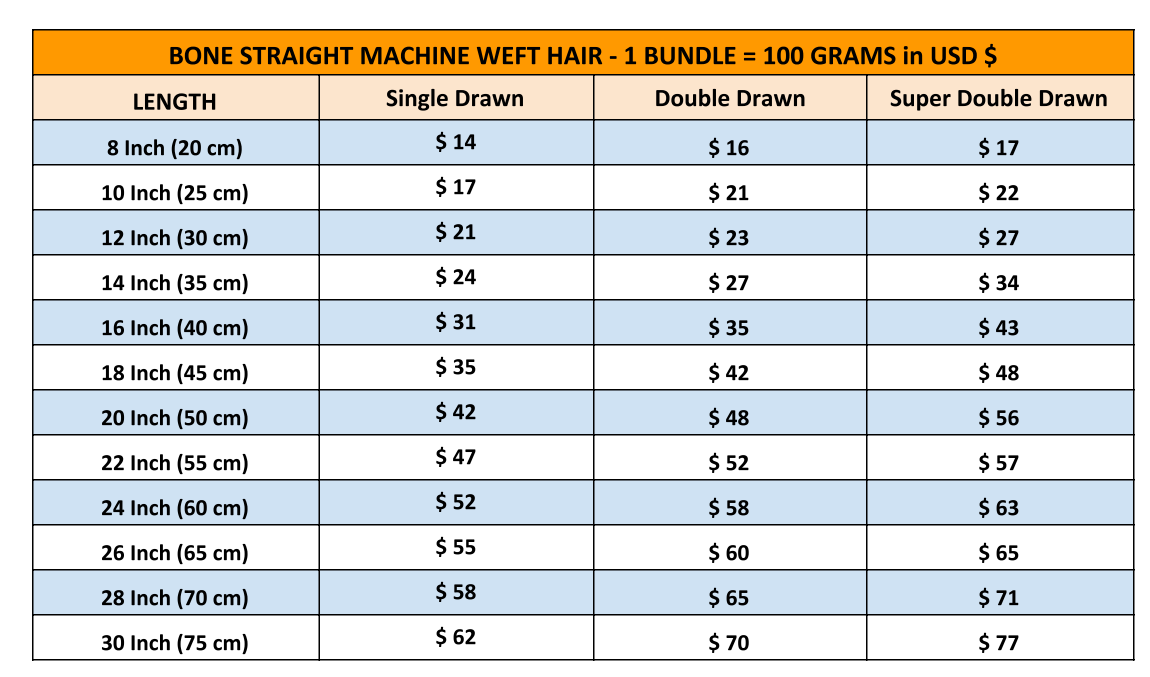 LACE CLOSURE

LACE FRONTAL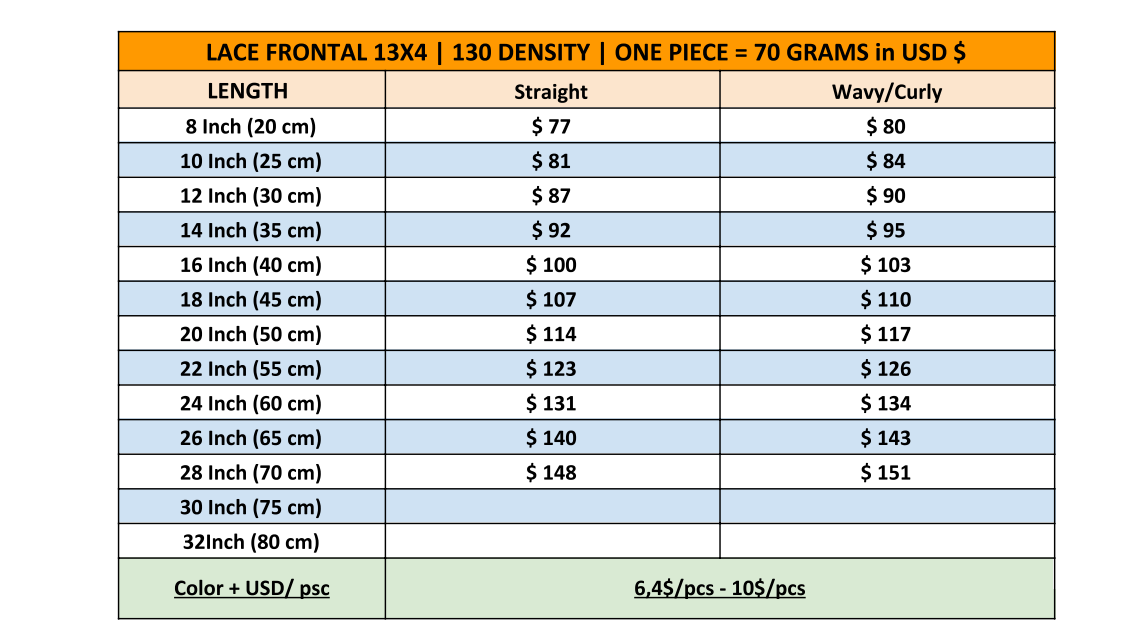 WIGS | 360 LACE CLOSURE

BULK HAIR (RAW HAIR)

BEST SELLING HAIR