How to Care

10 THINGS DESTROYING YOUR HAIR
Stress or bad habits can lead to damaged, dull, brittle hair over time. You are actually destroying your hair even everyday without knowing it. Therefore, hair care plays an important role in keeping hair extenions longer, and more durable. Let Sunny Hair Vietnam outline some hidden reasons of damage below, so you can make some necessary changes in your hair routine for healthier hair.
1. Hidden chemicals in your hair products
In fact, most hair products contain a multitude of chemicals, alcohols, and silicons, which only give your hair short-term softness and shine. But in the long term, these do more harm than good. Using some ingredients in hair products should be reduced such as Sodium lauryl sulfate, isopropyl alcohol, polyethylene glycol.
2. Excessive heat styling
Hot tools are known culprits that rapidly suck moisture out of hair strands, literally frying your ends. Opt to air dry instead of blow dry when you can and try going heatless a few days a week by experimenting with twists, buns, and braids.
3. Skipping out on the heat protectant
Like protecting your skin with sunscreen, heat protectant works the same way to protect your hair from the detrimental effects of heat. It acts as a barrier between your hair and hot tools, sealing in moisture, and boosting shine.
4. Brushing your hair when wet
Brushing your hair when wet is a very bad habit that many people make. Because your hair is at its most fragile state, and easily susceptible to damage. Therefore, let your hair dry at least half way before brushing.
5. Using the wrong kind of shampoo and conditioner
Not all shampoos are created for the same hair problems, so it's important to identify what your hair goals are and shop for products accordingly. Use a lot of hair products on a daily basis? Opt for a clarifying shampoo to prevent buildup at the scalp. Suffer from dry hair? Use a shampoo infused with honey or oils to deposit moisture into your hair as you wash.
6. Towel drying your hair
The next time you step out of the shower and wrap your hair in a towel turban, think again. Regular towels are usually made with rough, coarse fabric. This leads to more friction when rubbing against the hair, creating frizz, pulling on fragile strands, and causing damage and breakage. Instead, opt for a microfiber towel, which glides easily over hair, reducing strain.
7. Washing your hair every day
Our scalp produces natural oils essential for maintaining shiny, healthy hair. As a rule of thumb, you should wash your hair every two to three days or even longer, if you can make it. If your roots get oily within a day, invest in a good dry shampoo to tide you over until your next wash.
8. Sleeping on a cotton pillowcase
Much like towel drying your hair, sleeping on a cotton pillow can lead to tangled hair and contribute to breakage. The smaller fibres on a silk pillowcase prevent your hair from excessive pulling as you toss and turn, preserving your curls overnight, and leading to smoother hair in the morning.
9. Avoiding regular haircuts
We all want long, healthy hair, however, avoiding regular haircuts is actually a counterintuitive way to achieve that long hair of your dreams. Generally, most women should have their hair trimmed every 3 months to keep ends healthy and prevent breakage. If you notice that your ends are starting to feel brittle or developing split ends, it's time to make a trip to your salon.
10. Not changing up your hair products
Over time, your hair will adapt to products you use regularly leaving a residue or buildup on your scalp, rendering them less effective. Use a clarifying shampoo once a month to give your hair a fresh start, or rotate different products to suit your needs into your regular hair routine to keep your hair from getting too accustomed to a specific product.
PROPER CARE FOR HAIR EXTENSIONS
Storing hair extensions
It takes only a few minutes to put away your Sunny Hair extensions, and those few minutes can make all the difference to the quality and lifespan of your extensions. After removing your clip-in hair extensions, ensure that all of the clips are closed shut. When prepping your extensions for storage, we always recommend brushing the set. Always make sure you store your extensions in a cool and dry place away from direct sunlight (like a closet, cabinet or dresser drawer). Also, ensure your extensions are completely dry when storing them to prevent mold and other bacteria from growing.
Quick tip: You can also even gently knot the hair together if you want a light wave running throughout the hair the next time you wear your extensions.
Products to avoid
Using proper products (sulfate-free and alcohol-free products) is one of the most important things to take into consideration when caring for your hair extensions. This will make all the difference in whether your extensions will tangle or stay soft and manageable.
Using sulfate and alcohol products strip the hair of its natural oils which, in turn, makes the hair drier and more prone to tangling or matting. Prolonged use of these ingredients shorten the lifespan of your hair extensions significantly especially keratin, and tape-in hair extensions.
Always be sure to do one simple thing before you buy any product…flip it over! Not all companies claiming to make sulfate-free shampoos are truly free of sulfates. This is why it is important to know what to look for when reading ingredients.
Additionally, using sticky products such as hair spray, hair gel, or hair wax, can and likely will clog up your extensions. Furthermore, the more products you use, the more you will need to wash them. Remember, over washing leads to dry and tangled extensions.
How to brush hair extensions properly
Make sure that you are always gentle with your extensions and that you brush them properly as this can also affect their lifespan. First, gather all the hair together by stacking all of the wefts on top of one another. Then, carefully brush out the extensions from the bottom of the hair slowly working upwards towards the root. If you come across a particularly pesky knot, take out the individual weft and brush it through gently. Never brush the extensions when they are wet as this is when it is the most susceptible to breakage. Instead, brush them before washing or once they are 90% dry.
Preventing Tangling
While Sunny Vietnam Hair extensions are made of 100% human hair, tangling is a normal occurrence with not just your natural hair but all types of hair extensions. This can happen due to a lack of constant brushing, weather, or dryness.
Weather can also contribute to tangling, whether it is due to the wind, humidity, or heat. Humidity adds moisture to the environment, causing hair to frizz and tangle. Heat will do just the opposite as it will dry it out. Thankfully, there are some simple ways to ensure that your Sunny Hair extensions remain smooth and tangle-free. First, be sure to brush the extensions periodically throughout the day by using a wide-tooth comb. Always have a brush on hand so that you can give your hair a quick brushing. If it's a particularly windy day, you can tie your hair up.
Along with brushing your hair to prevent matting and tangling, starting at the source and using proper hair care products make all the difference in whether extensions will tangle or be soft and manageable. Use products specifically formulated for dry and damaged hair, as they will help keep the strands healthy and nourished. Also, look for ingredients that add moisture to the hair like argan oil, coconut oil, castor oil, and so on. Purchasing sulfate-free and alcohol-free products is a necessity so that the hair can prevent hair from becoming more prone to tangling or matting.
Reducing Shedding
Just like your natural hair, extensions will shed. Shedding is a common occurrence with hair extensions, and even your own natural hair. Keep in mind, extensions are more likely to shed when they are dry and brittle.
The first and quite possibly one of the most important steps is to brush your extensions out before washing them and only once the hair is 90% dry. This helps minimize the possibility of breakage and shedding during the washing and because the hair is at its weakest point when wet.
Washing your extensions too much or using products that contain sulfates and alcohol will strip the hair of its moisture which causes them to shed. Additionally, using a high temperature increases the risk of damaging the hair. Therefore, we highly recommend to only use a low heat setting of 120C/250F. While our own hair may be able to handle a high heat setting due to constantly getting revitalized from the scalp, whereas hair extensions don't receive the same amount of nutrients or oil in order to look silky and shiny.
Also, take into consideration that the more products you use, the more you will need to wash your extensions, so the best way to reduce shedding is to use a minimal number of products. If you want more hold when curling your extensions, try pinning up the curls and leaving them overnight to ensure the curls stay in place without the use of hairspray. If you do want to reach for hairspray, consider a lightweight formula which you can still easily brush hair through. Extra strength hair sprays will clog up your extensions, which means more washing.
Drying hair extensions
We don't recommend blow-drying your extensions after every wash as doing this constantly will make them dry and more vulnerable to breakage. If you must blow-dry your extensions, be sure to use a heat protectant spray prior to blow-drying to extend the lifespan of your hair extensions. If you need to use your extensions immediately after washing them, the most important thing is to ensure that you are blow drying on a cool setting to prevent any heat damage and that you don't brush the hair until it is 90% dry. Use your fingers to gently loosen any tangles. Always blow-dry downwards as this will help to not only smooth the cuticle but it will also prevent the hair from getting tangled since it is being blown in lots of different directions.
Coloring/dyeing hair extensions
Sunny Hair Vietnam extensions are offered in a variety of colors ranging from Single Colors, and Ombre to Balayage. If you are ever uncertain of your ideal match, simply email our Support team at [email protected] with a photo of your hair taken in natural lighting. It will be our pleasure to help you!
If you happen to have a hair color that we don't offer you can always have your extensions dyed a darker color since they are made of 100% human hair. If you do decide that you want to color your extensions, it's best to head straight to the salon and find a professional who is experienced in working with extensions as you're unlikely to run into problems this way.
We do not, however, recommend bleaching your hair extensions as they have likely already been dyed at the manufacturing level. Forcing bleach on hair that has already been dyed can be difficult, and finding alternatives like increasing the concentration of bleach or leaving it in longer to soak will only lead to damaged hair. Also, keep in mind that the color may not come out as intended because of the existing hair dye.
Recommended alcohol-free and sulfate-free shampoo: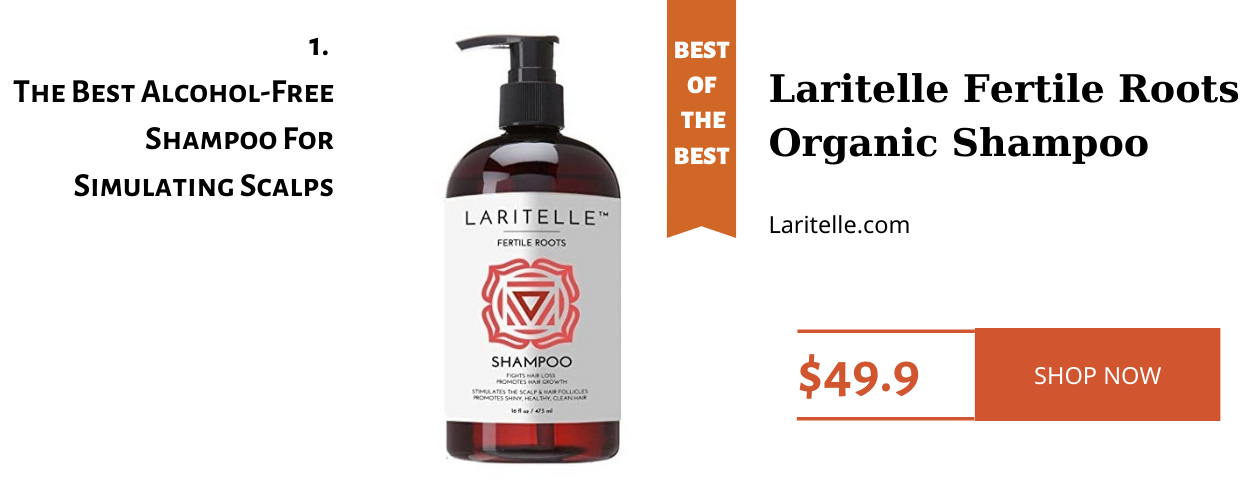 This Laritelle Shampoo alcohol-free shampoo is good for both hair and the environment, this top-of-the-line hair strengthening shampoo is free of not only alcohol, but sulfates and gluten as well.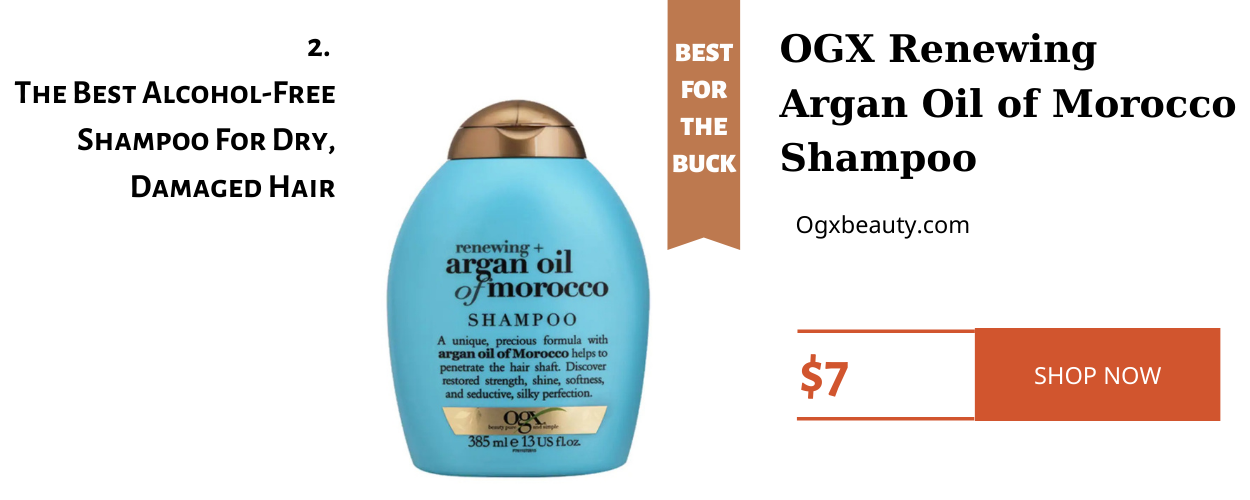 OGX Shampoo combines argan oil from Morocco with silk proteins to hydrate and repair severely dry, damaged strands. It creates an impressive lather, and can make both curly and straight hair feel thicker, without weighing it down.

If you've used a hot tool one too many times (no judgment, we've all done it), use Shea Moisture Shampoo immediately. The creamy formula will revive even the most damaged strand with plenty of moisture and nourishing oils.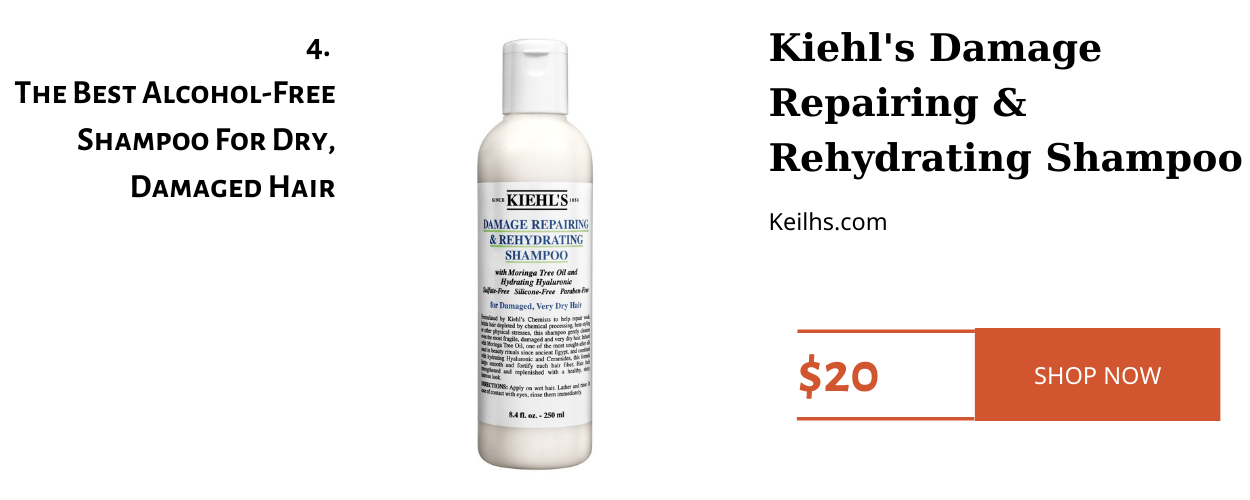 This Kielh's Shampoo is extracted from the moringa tree oil, hyaluronic acid, and ceramides found in this shampoo strengthens hair so that it can withstand treatments and styling that requires extreme heat. It's the perfect defense against hot tools that do a number on our hair.
Recommended heat protectant spray: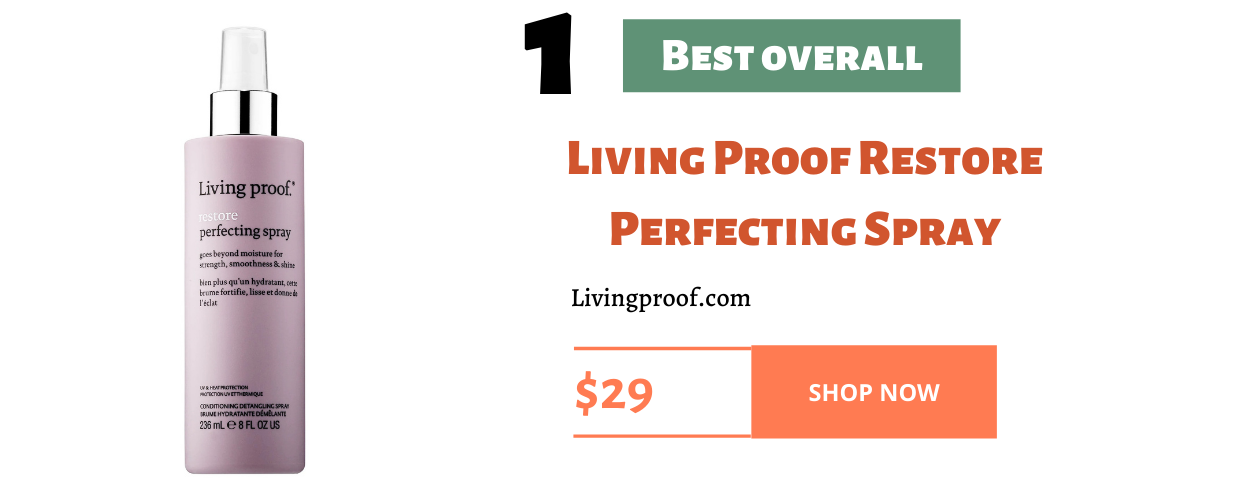 Best overall: Living Proof Restore Perfecting Spray
If your hair is kinda damaged, kinda dry, kinda frizzy and kinda dull, well, Living Proof's Restore Perfecting Spray is for you.
The detangling mist ticks every box when it comes to hair prep and protection, the formula defends against temps up to 205°C whilst moisturising, nourishing, smoothing and shine-boosting.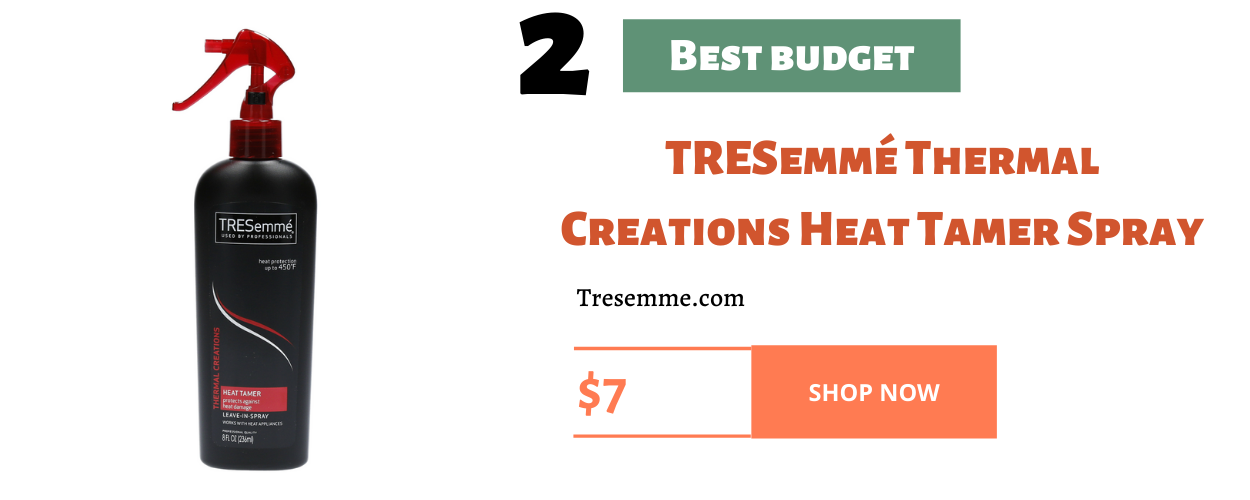 Best budget: TRESemmé Thermal Creations Heat Tamer Spray
Stop split ends and dried-out stands in its tracks with TRESemmé's thermal heat spray that takes nourishment very seriously, despite the price tag.
Spray this vitamin-filled option wherever you're planning to use heat, typically from the mid-shaft to your ends, to keep hair hydrated and damage-free, even if you style your hair on the daily.
Now that we have your attention, this drugstore staple guards from heat up to 450 degrees and is infused with keratin and marula oil for extra soft hair.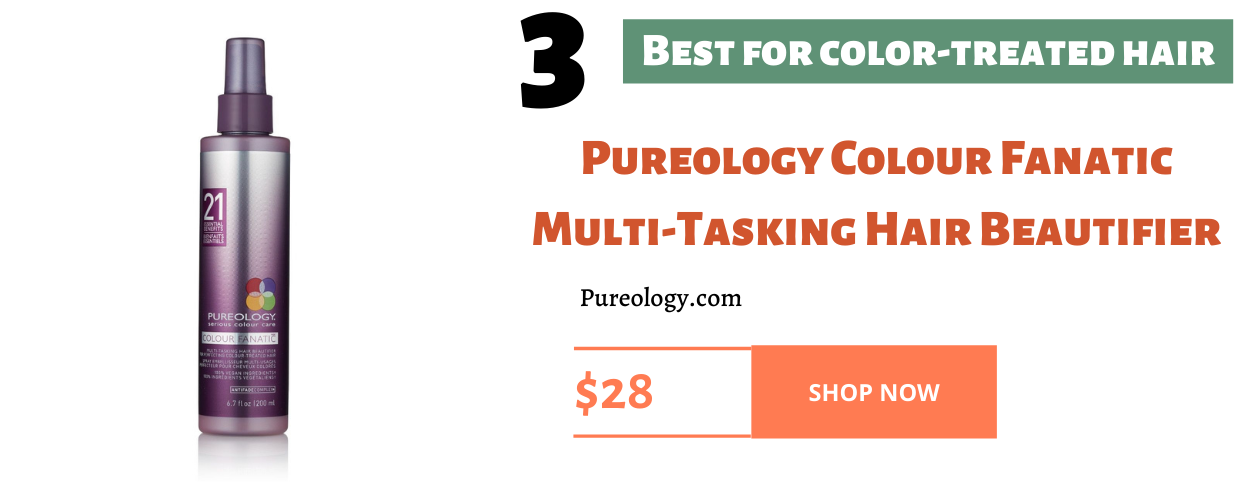 Best for Color-treated hair: Pureology Colour Fanatic Multi-Tasking Hair Beautifier
Color-treated hair is already at a disadvantage before you take a curling iron or straightener to it. Because since hair can get damaged during chemical processing, using hot tools can make things worse. Pureology's spray protects colored hair by sealing in moisture to prevent split ends and breakage, plus keeps color from fading.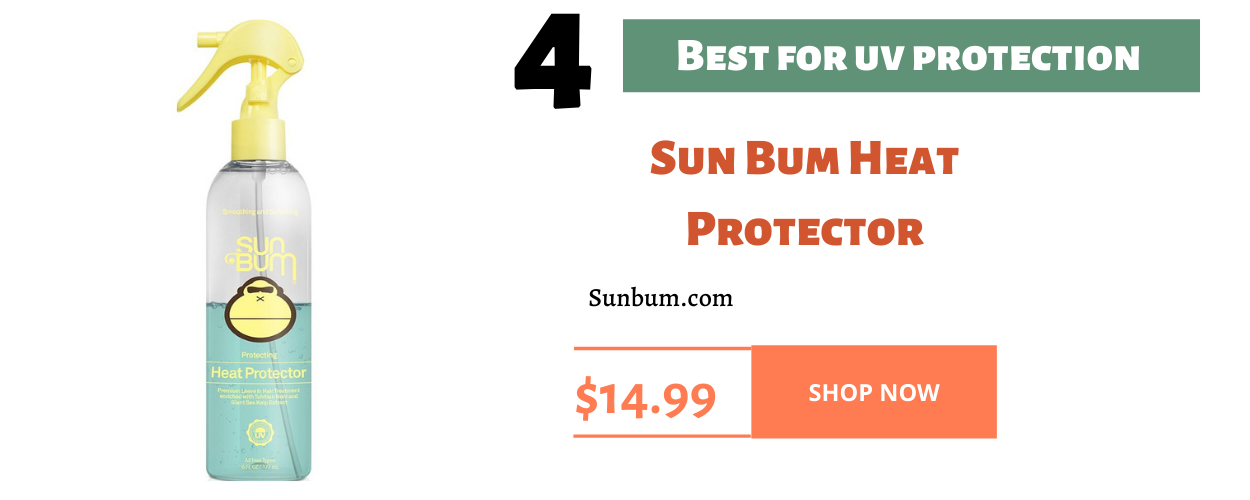 Best for UV Protection: Sun Bum Heat Protector
Think of Sun Bum's heat protector like sunscreen for your hair. It blocks UV rays from fading and drying out strands. Indoors, it's formulated to speed up your blow-drying time so there's less risk of breakage and hydrate hair for a sleek, smooth finish.
BEST HAIR OIL FOR EVERY HAIR TYPE
Best oil for all types hair: Coconut Oil

What makes coconut oils the best for oil for hair is its fatty acids and natural vitamins, it has moisture-retaining properties that allow it to penetrate the strands more deeply to strengthen and nourish hair. Coconut oil is also a great moisturizer for skin, scalp and hair. Moreover, coconut oil can also easily be found in some grocery and health food stores.
Best oil for damaged, kinky/curly hair: Castor Oil
Derived from roasted castor beans, this oil is commonly used for afro-textured hair to help treat dryness, but also to help stimulate hair growth. Similar to coconut oil, castor oil is a long-chained fatty acid which helps to provide the hair follicle with nutrients and essential proteins – hence, growth and more moisture. Castor oil is great as a pre-shampoo treatment for thick, curly hair. It can also be used on fine or medium-straight hair, but more so as a conditioning treatment.
Best oil for frizzy hair: Argan Oil

Argan oil, also called as Morrocon Oil does wonders for frizzy hair and hair prone to breakage. Argan Oil packed with vitamin E, fatty acids, antioxidants, and ferulic acids help hair to lock moisture in the hair. Argan oil is famous for its moisturizing properties, preventing damage and breakage.
Moreover, it's great for hair extensions. It helps to smoothen hair strands, reducing dryness, brittleness, and frizziness, perfect for soft, manageable hair extensions. Because argan oil is not as greasy as coconut oil, it can be used as a finishing oil after styling too.
To treat frizzy hair and prevent breakage, use 1-2 drops of argan oil in your hand and massage the oil starting at the scalp and working your way to your ends. Depending on the severity of damage use this practice a couple times a week for best results.
Best oil for dandruff and dry scalp: Jojoba Oil

Extracted from the jojoba plant, jojoba oil is especially good for the scalp. The reason for this is it already contains a chemical structure that is similar to sebum, the natural oil released by the scalp. The fatty acids and natural alcohols in jojoba work with the scalp to help keep it moisturized and therefore clearing up irritation and dryness which can lead to dandruff. A healthy scalp leads to healthy hair and with a nourished and moisturized scalp, this can help promote hair growth.
Best oil for dry and dull hair: Olive Oil

One of the best ways of hair treatment is literally good enough to eat. Olive oil is rich in Vitamin E, and also useful to treat UV damage and damage. While olive oil does not penetrate the strands like coconut oil to nourish and repair, it actually acts as a natural protective barrier around damaged hair strands. This protective layer helps strengthen the look and feel of your hair making dull hair healthy and shiny naturally.
Best oil for brittle hair and hair loss: Grapeseed Oil

Grapeseed oil becomes a great remedy for brittle hair, because it contains antioxidants, and easily absorbed into the hair. Grapeseed oil helps to lock moisture in which strengthens the hair from the follicle to the ends, helping with hair loss. It is packed with a high amount of oligomeric proanthocyanidin complexes (OPCs) that helps to lower the production of dihydrotestosterone (DHT) – the hormone linked to baldness or pattern hair loss. Grapeseed oil can help to stimulate hair cell production which may help naturally treat hair loss.
Best oil for oily scalp/hair: Tea Tree Oil

Tea Tree oil is well known for its cleansing properties, so it's best for oily scalp and hair. Tea tree oil helps to balance the scalp's natural sebum or oil creation with its natural anti-bacterial properties. By cleansing and disinfecting the scalp, it unclogs blocked follicles and creates the foundation for a healthier scalp and hair growth.
Best oil for thinning hair: Avocado Oil

Avocado oil is lighter than some other hair oils. Avocado oil contains minerals, vitamins and antioxidants – the combination of these components nourish the scalp and help to stimulate growth which will help with thinning hair. Avocado oil also helps to lubricate and nourish strands – especially important for thinning hair – to help prevent any breakage or fallout. By nourishing the scalp and strengthening the strands, locks will be shinier and stronger making for healthier thin hair.