Human Hair Factory Vision
Sunny Hair Vietnam - Top Hair Factory Outlet in Vietnam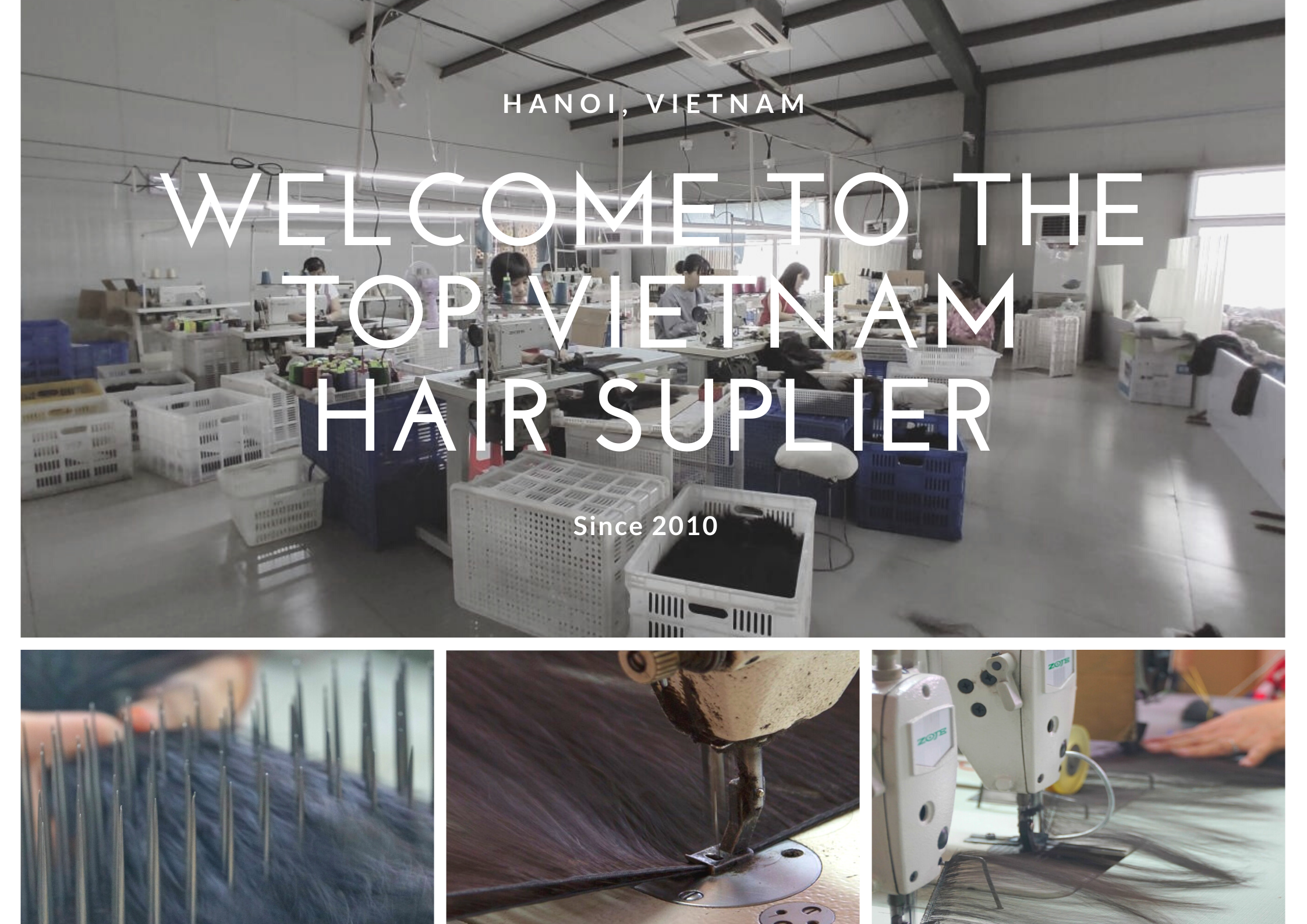 Sunny Hair Factory - No1 Hair Manufacturer in Vietnam
Our story
It all started back in 2010, CEO Mr. Sunny Pham opened a modest factory located in the outskirts of Hanoi. He and the co-founders draw on experiences to create initial hair extensions, providing domestic needs. After 5 years, in 2015, it led Mr. Pham down a journey of uniquely sourcing a variety of hair textures from Burma, Malaysia, Cambodia. Over the last 10 years, he discovered time-saving techniques and longer lasting, higher quality hair extensions.
Nowadays, Sunny Vietnam Hair is the premium hair manufacturing company in Vietnam, providing top-quality hair products and services to distributors, vendors, salons, and online store owners around the world.
Sunny Vietnam Hair provides natural human hair extensions to wholesalers, hair sellers, distributors, retailers, beauty or hair salons, online stores, and hair stylists around the world. Sunny Vietnam Hair supplies virgin Vietnam hair, Cambodia hair, Malaysian hair, Indian hair, closures, colored Remy hair, and more.
Our Factory Vision
High position in Vietnam's market is just the beginning of our journey to reach the top. Indeed, Sunny Vietnam Hair intends to become the top global manufacturer for all countries around the world.
Sunny Vietnam Hair aims to be the most prestigious and trustworthy human hair manufacturer globally with ultimate qualified products.
We are putting enormous effort in building durable cooperation with Africa's market, including Nigeria, Brazil, etc. In fact, Sunny Vietnam Hair has two fully dedicated hair factories in the outskirts of Hanoi and two representative offices in Hanoi and Ho Chi Minh City.
Furthermore, Sunny Vietnam hair is also willing to approach potential markets such as Europe because our products are certainly qualified in all aspects.
Therefore, a strong worldwide hair business network is undoubtedly within our reach.
Our Factory Missions
First of all, to be the most reliable and trustworthy natural hair manufacturer in Vietnam.
Secondly, to offer our customers great services, top quality products at competitive prices.
Thirdly, the responsibility of Sunny Vietnam hair is to raise the beauty of every woman, enhancing their belief so that they can be more self-confident.
Last but not least, Sunny Vietnam Hair strives to be an ideal environment for all company members and partners to improve themselves, show their passion and realize their dreams.
Our Factory Main Values
Your client's beautiful looks: Sunny Hair Factory is committed to provide the best value to all our business partners, and be the most trustworthy supplier for all your client's hair beauty needs.
Customer focus: customers satisfaction and loyalty oriented
Competitive prices: best price for high standard products
Our Promise to you
Beautiful hair is only the beginning. We're committed to giving you the best hair at the best price. Our mission is to help women look and feel beautiful every day. Being women ourselves, we understand you and your client's needs. Furthermore, we want to have a long lasting relationship with you by giving you the best hair and the best service.
Sunny Hair Vietnam is the embodiment of every single lady in this world! You are all beautiful, glam, sophisticated, wise, elegant. Our company was created because every woman in this world deserves long luscious locks that are 100% Human Remy Hair, easy to apply, and extremely discreet.
At Sunny Hair Vietnam – The best hair factory in Vietnam, your happiness and satisfaction with your Sunny Hair Vietnam is always at the top of our priority list. We pride ourselves on our excellent customer service and being there with you every step of the way, from the time before you purchase your Sunny Hair Extensions, through its delivery, and after.
We promise that we will be there to answer all your questions and you never have to feel like you're alone!
We pay attention to our lovely customers and only want you to have the best experience possible with Sunny Hair Vietnam!
Join the Sunny Vietnam Hair world & become a part of us today, you deserve it!
Our Sunny Hair Vietnam Factory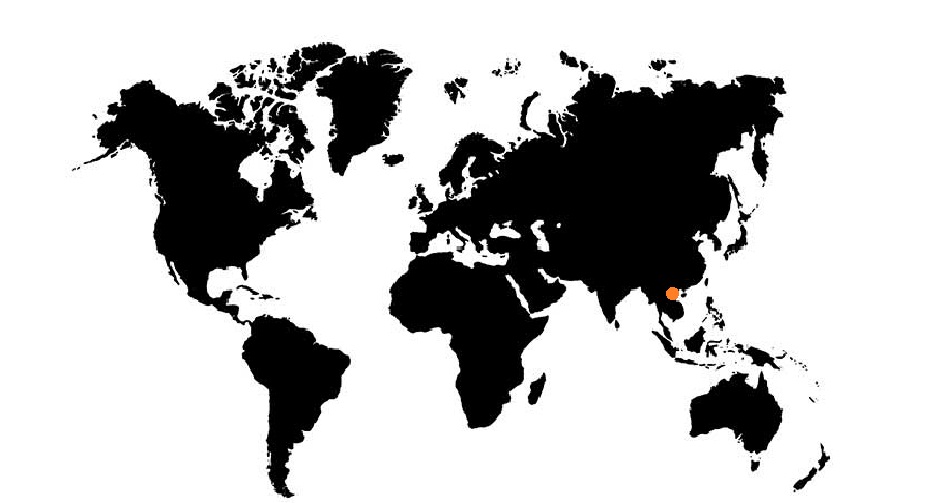 We believe in creating premium hair products, providing unbeatable customer service, and transparency. Step inside our factory and learn more about how and where our products are made.
Located in Hanoi, Vietnam, our factory has all the right attributes: it utilizes bright spacious facilities, modern hair processing methods, and provides local communities with comfortable conditions and convenience.
Founded in 2010, the factory began in a small workshop with only 10 employees. Today, it employs over 50 fulltime and 30 part time staff/workers and occupies two vast facilities.
We've built Sunny Vietnam hair by bringing our customers the very best of everything, earning us the title of #1 rated clip-in hair extensions brand in Vietnam. Along with 100% Remy human hair extensions and a range of premium accessories, we've created tons of styling tutorials and hair care guides so you can get the hair of your dreams, long after your purchase.
Beyond beautiful hair, our mission is to inspire confidence and empower you to look and feel your best. Our customers are the center of everything we do. Like a best friend, we dedicate ourselves to being there for you, all the time. Need some hair advice? Want to request a new product? Just have a question?
Whatever, whenever, we're always here.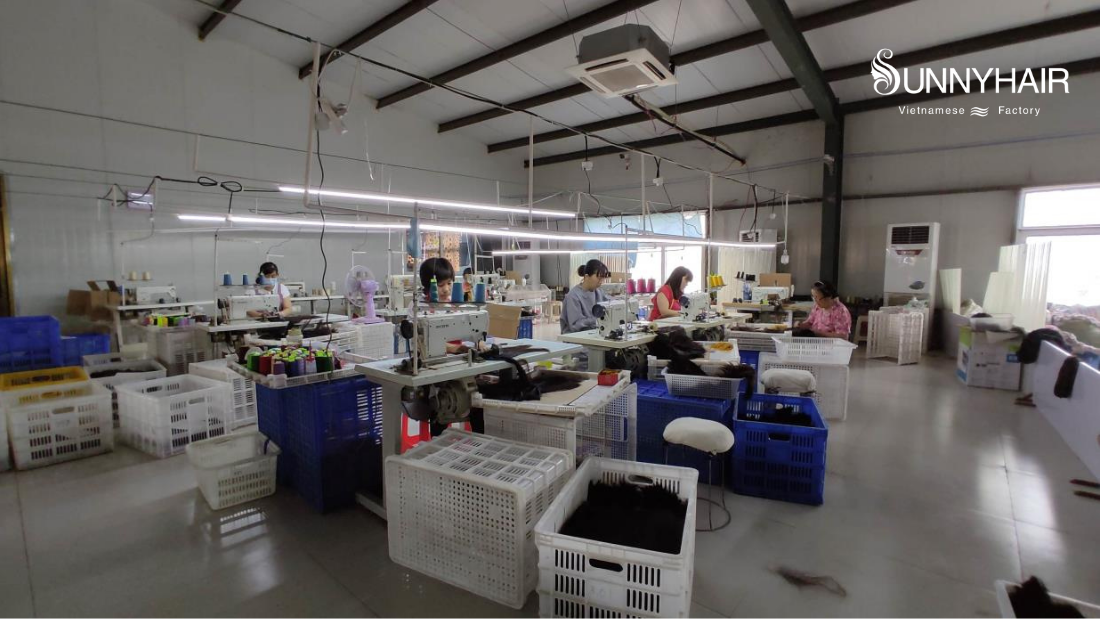 Sunny Hair Factory Workers
The expansion in the factory scale is a solid foundation for us to develop more diverse hair products in different designs, styles, sizes and colors. More than 50 fulltime and 30 part time dedicated staff, diligent, patient workers with skillful hands are always hard at work to produce the best hair products with the best quality. Our average employee's age is 42, composed of 72% women, mostly from local communities.
Thanks to our hair factories, people here have a stable job and income without having to go far away from home to make a living, the hair profession is therefore preserved and passed on to the young generations.
Vietnamese employees are famous for their industriousness and skillfulness. Vietnamese hair factories don't produce in industrial-scale production like China hair factories but in household-scale with focus on the finishing quality of the products. Therefore, each bundle of hair is made meticulously by skillful hands of qualified workers and quality checked many times to ensure the best quality.
Our factory has also continuously invested in existing machines to improve the productivity of the factory as well as the quality and beauty of the hair products. The volume of hair that we can supply to the international market has now reached 3 tons per month.
Sustainably Sourced Materials Used In Our Factory
Sunny hair is sourced directly from verified agencies located in Burma, Laos, Myanmar, Cambodian who have a long-standing reputation for collecting high quality human hair. All hair is sold or exchanged freely and fairly.
Our hair is human virgin hair collected from 100% Vietnam, Burma, Laos, Myanmar, Cambodian healthy woman hair donors, prominent with durability and natural silkiness, which can be made into many hairstyles without damage. Based on the thickness of hair, our product lines are divided into 3 grades: single drawn hair, double drawn hair, and super double drawn.
Raw Vietnamese Hair is a specific type of Vietnamese Hair. Raw Vietnamese Hair is unprocessed hair, natural virgin hair cut directly from only 1 donor, the perfect material to bleach, and dye to many colors.
Mostly, raw Vietnamese hair vendors are taken from the villagers in the high mountains ( cold weather zones), so their hair is really strong and silky because their hair is not affected by sunlight.
80% of hair quantity is from women at the age of 18 to 25
As you know, the villagers from the high mountains are very strong and healthy, occupied with physical work all day. Therefore, the hair quality goes together with the donor's health. It is very strong and durable.
About Our Factory Partners
We have 4 hair collection agencies in Malaysia, Burma, Cambodia, Laos. We promise to collect good quality hair from different donors fairly to ensure the diversity of hair textures. The hair is transferred to the factory located in Vietnam. All production processes within the factory are monitored strictly for compliance with rigid standards of quality, environment and safety.
Sunny Hair Vietnam Factory Products
Sunny Hair Vietnam provides a wide range of hair extensions products including clip-in, keratin tip, tape, weft, and bulk hair made from 100% human hair. The origin of hair almost comes from Southeast Asian countries such as Vietnam, Laos, Myanmar, Cambodia, Burma to ensure the diversity of hair textures.
In the Sunny hair Vietnam factory, the products must go through many processes before getting to customers: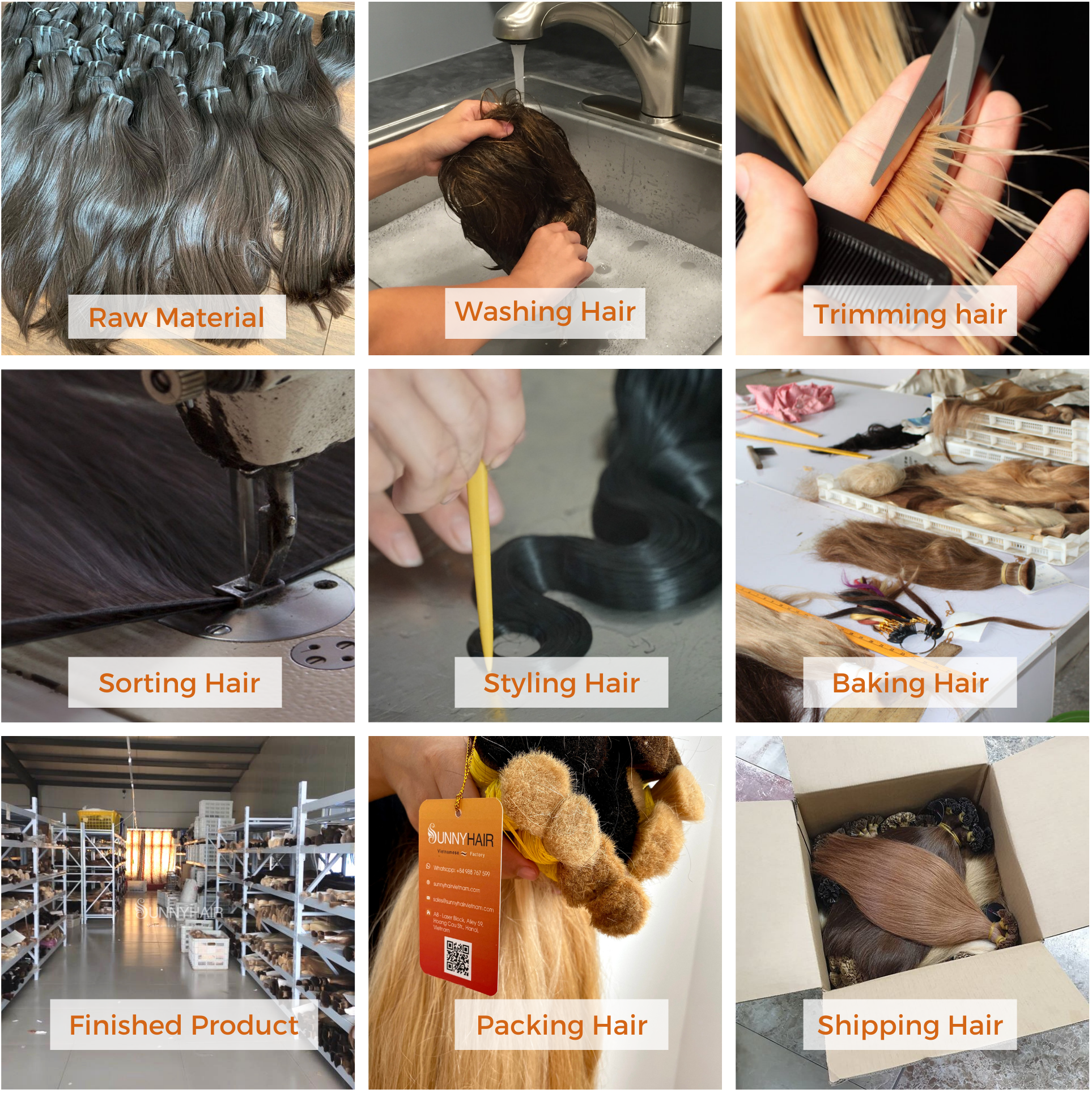 First, each strand is selected carefully after cut from donors to rule out short and bad quality hair.

Second, all the hair is washed carefully and then made into the weft, tip/tape hair extensions, wigs by skillful hands of qualified workers.

Last, all the products go through a

strict quality control process

to ensure all the hair is absolutely perfect.
Types of products:
Single Drawn Hair: Remy natural human hair of good quality with straight, wavy and curly textures and natural colors in various sizes from 30cm to 80cm or more
Double Drawn Hair: Remy natural human hair of better quality with straight, wavy and curly textures and natural colors in various sizes from 30cm to 80cm or more
Machine Weft Hair: Various kinds of human hair with all natural colors and textures are processed with modern tools and equipment by skilled workers to produce hair products with premium quality.
I – U – V – Flat Tip, Clip-In Hair, Tape Hair (Hair Extensions): Super easy to use, long lifespan, various length, textures and color. All for your hairstyle options without waxes, glues and damage to your own hair.
Lace Closure (Wigs): We produce wigs with 100% natural human hair of all styles, color and texture for your choice. Choose your style and make your identity to be a new you.
Super high Quality Color Hair: includes 100% natural, remy hair with top quality which is processed by modern equipment to produce products which are natural-looking, shiny, silky, smooth and soft.
Virgin Human Hair – No Mix: includes 100% natural, remy hair cut off from one head, unprocessed, not dyed, without nits, in the same direction.

Products as Special Order (size, quality, color): As per or special requirements for the length (up to 90cm -100cm or 36-40 inches), for the quality of super good hair, for the color of natural looking beauty.
Sunny Hair Vietnam Factory Quality
Sunny Vietnam Hair extensions and wigs are made entirely from Remy Human Hair. Remy hair is the highest grade of human hair with the cuticles kept intact to prevent tangling and prolong the lifespan of your extensions. The hair is meticulously sorted to select only the finest strands of desired length and aligned in a unidirectional fashion. This process ensures that the hair remains ultra soft, shiny, silky, and tangle-free throughout its lifetime.
The Vietnamese manufacturers for Sunny Vietnam Hair not just take their time in manufacturing them, they also take the responsibility of shipping their products worldwide. The manufacturing process is conducted by a team of professionals who holds a great deal of reputation and experience in the hair industry. Our hair extension goes through a good amount of testing for quality, so that our customers can have the best products according to their needs.
Read more
Sunny Hair Vietnam Factory Price
We are a direct-to-consumer company, allowing us to pass the savings on to you! For the past 10 years and even more so today, The Sunny Hair Vietnam continues to complete the company more to meet clients' needs and deliver the best quality possible. No matter if you are wholesalers, or home salons, or reselling business online, you can order the best reasonable hair at factory direct price from Sunny Vietnam Wholesale Hair Factory.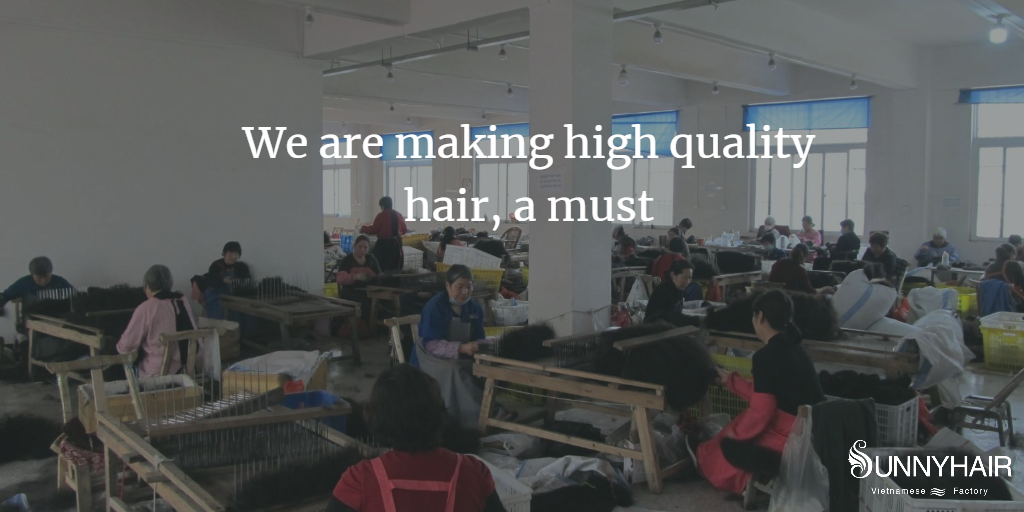 We would love to hear from you - please fill the form to send us your enquiry or messages. Our Sales Team and Customer Service Team will get back to you as soon as possible.
OR VISIT OUR WHOLESALE PRICE LIST: https://vietnamhairsuppliers.com/our-price-list.html
Email: [email protected]
WhatsApp: +84 988 767 599
Address: A8, Laser Block, Alley 59, Hoang Cau Street, Dong Da District, Hanoi