Raw Cambodia hair vendors and suppliers
I. Cambodia raw hair, a hair nature gift
1. Cambodia raw hair features
Cambodia raw hair texture
Cambodia raw hair has up to 3 textures, varies from silky to thick or coarse. Whatever the texture is, Cambodia raw hair is vigorous from root to tip. Plus, Cambodia hair is tangle free, which is easy to comb and brush. The most distinctive characteristic of Cambodia raw hair is the natural coarseness.
The natural coarseness enables the hair to hold curls very well without being frizzy. Despite being dense, Cambodian hair is not heavy at all like India hair. It's very soft and lightweight instead.
With 3 textures and various volumes, there are various Cambodia raw hair products available. Any kind of hairstyle, straight or wavy and curly, can all be easily done on Cambodia hair.
The tangle-free characteristic makes it so easy to make a voluminous ponytail, braid or cute buns.
The natural colours of Cambodia raw hair are jet black or black #2. However, if pop colours are what you want, so no worry because Cambodia Remy hair extension or Cambodia wig offer various beautiful colours.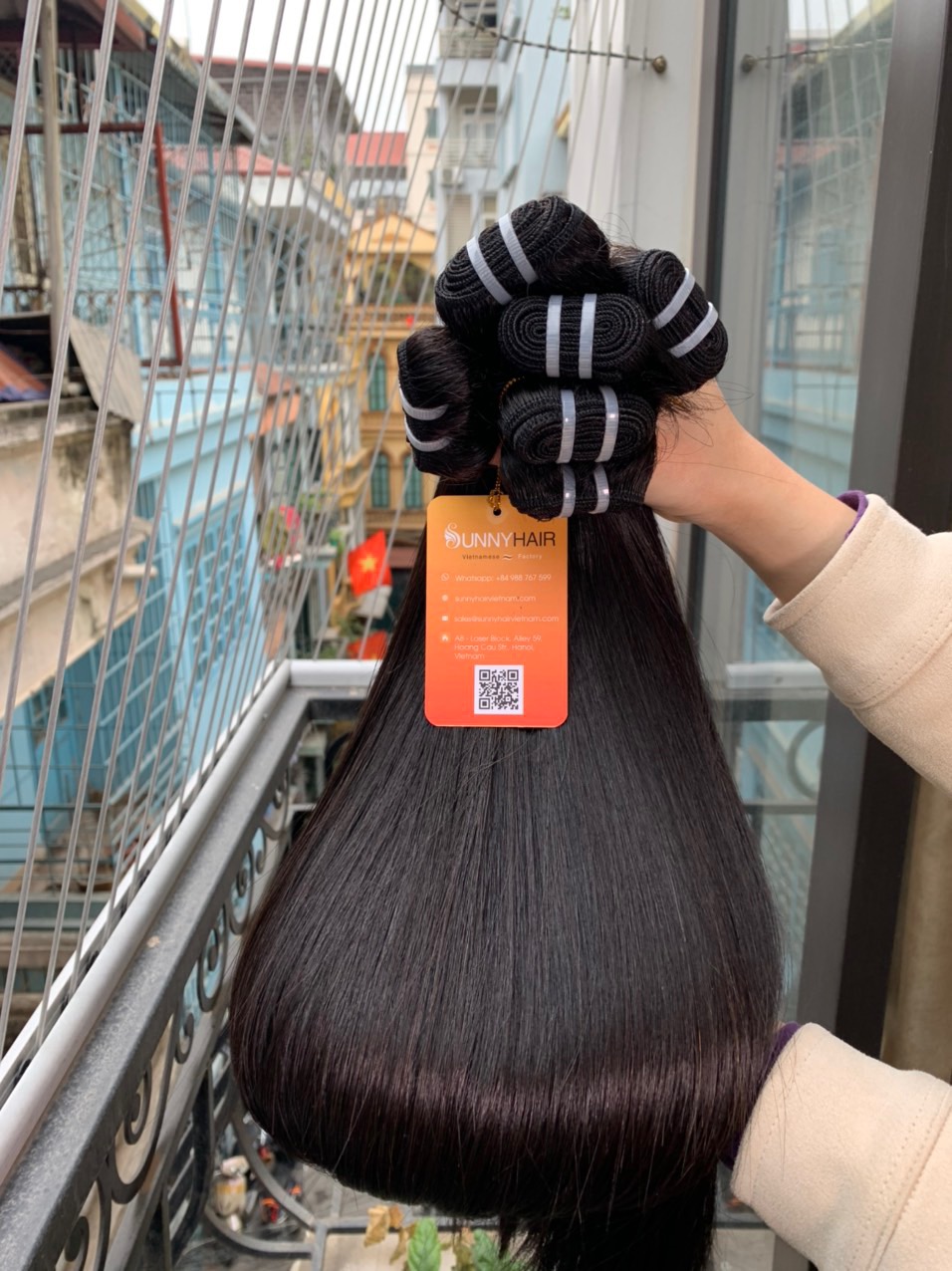 2. Cambodia raw hair and other hairs
Cambodia hair vs India hair
Both Cambodia and India hair are very coarse. However, Indian hair is denser, which makes India hair a bit heavier. Cambodia remains lightweight and makes your scalp feel very comfortable even if you add a big volume.
Cambodia hair vs Brazil hair
Brazil's hair is famous for its crazy volume and density. But Brazil hair is not as soft as Cambodia hair because SouthEast Asia hair is famous for its softness. Not only being so soft, which is satisfying to touch, Cambodia hair also has a very healthy cuticle, which enables Cambodia raw hair to be long lasting.
Cambodia hair vs Vietnam hair
Both of these are SouthEast Asia hair. And they have their own perks. Cambodia hair is more vigorous while Vietnamese hair is more silky soft. Cambodia hair is also the most coarse hair among SouthEast Asia hairs, and even Chinese hair.
3. Cambodia hair origin
Cambodian hair is directly collected from the Khmer ethnic group in Khmer Loeu Village which is about 45 miles away from the center. Here is the home to around 80 poor families which do not have enough food, clothing stuff and electricity. Coming to this village, you will be impressed by Cambodian women in the sampot clothes – the traditional costumes of Cambodia. In order to earn their living, women with the age from 18 to 60 have to sell their long black hair at the price range of 20,000 to 33,000 riels (approximately $5 to $8).
Thanks to sophisticated hair care habits such as washing the hair with cold water and taking care of natural flavoring, many vendors all over the world are seeking for Cambodian hair. Every four to six months, collectors come to the village to take the hair and give them money in exchange. Sunny Hair Vietnam is a direct source and hair factory of Cambodian Hair Products.
II. Reasons why you shouldn't miss Cambodia raw hair
Cambodia raw hair can be freely coloured and bleached as desired without getting weak and frizzy due to its healthy cuticle. Besides, its coarseness holds the hair in-style very well, which makes your hair colour even more pretty and outstanding.
Thanks for having a healthy cuticle, with proper care and minimum chemical treatment, Cambodia hair can last around 6 to 12 months.
Cambodia hair is the most dense of all SouthEast Asia hair, so their hair volume is the best. However, you can combine 2 two hair bulks if you want double thickness.
Cambodia hair has a beautiful amazing texture. With 3 options of texture and the ability to blend in any hair types, Cambodia hair is the to-go for everyone.
Cambodia hair is cheaper than you think. A 10 inches wavy bundle will only cost around $25.
It is probably even cheaper if you purchase with a big wholesale quantity.
III. How to find raw Cambodia hair reliable wholesale supplier
There are abundant wholesale suppliers in Southeast Asia offering Cambodia raw hair. In order to find good reputation hair supplier with good service, remember to follow these steps:
In Cambodia and Southeast Asia, English is not the first language here. Thus, you can only find English websites that are hair vendors especially for foreigners. In these English websites, you can evaluate if they are real or fraud based on the information about the company and the products. So go online, search the keyword "Cambodia raw hair" or "Cambodia bulk hair". There'll be hundreds of search results, if you're patient, just click in as much as possible. Otherwise, just click in some noticeable ones. Remember to visit at least 3 different hair vendors.
Visit e-commerce platforms: Alibaba, Shopee
Besides websites, e-commerce platforms are really effective ways to reach out to wholesale suppliers online. Alibaba, Shopee are the most popular in offering Cambodia raw hair. On e-commerce platforms, the prices are clear, the shipping fees are all stated beforehand. Especially on E-commerce platforms, you can find reviews from the previous buyers.
Social media: for Instagram and Facebook users
Nowadays, social media has become so popular for online shopping like Instagram or Facebook. It's easy to find hair vendors up here, dm them, read the comments, posts to see how these hair vendors do. You can also find abundant resources through the hashtag on Instagram. This is how you do it:
Log in Instagram on mobile app

Go to the search bar

There'll be 4 sections below the searching bar including: top search - accounts - hashtag - location. Choose the hashtag one.

Type #rawCambodiahair, it shows all the possible results. Pictures, videos, reviews from users all over the world would show up.

Track those hashtags, and you may find some really interesting hair vendors.
After collecting all the information in various ways above, now it's time to make comparisons among hair vendors to see which is your finale. You can set the standards for yourself such as price, customer service, fast delivery, good reviews or the variety of products.
After picking up the right hair vendor for you, you may need to make phone calls or video calls just to ensure things are okay. Request them to show you the real hair and products that they're selling. Evaluate through the way they talk to see if they're professional or not.
Obviously , if it's possible, you should pay a visit to the hair vendor. It's okay if you don't anyway, there'll always be exchange policies anyway. If there's something wrong with the order, a professional hair vendor always figures it out.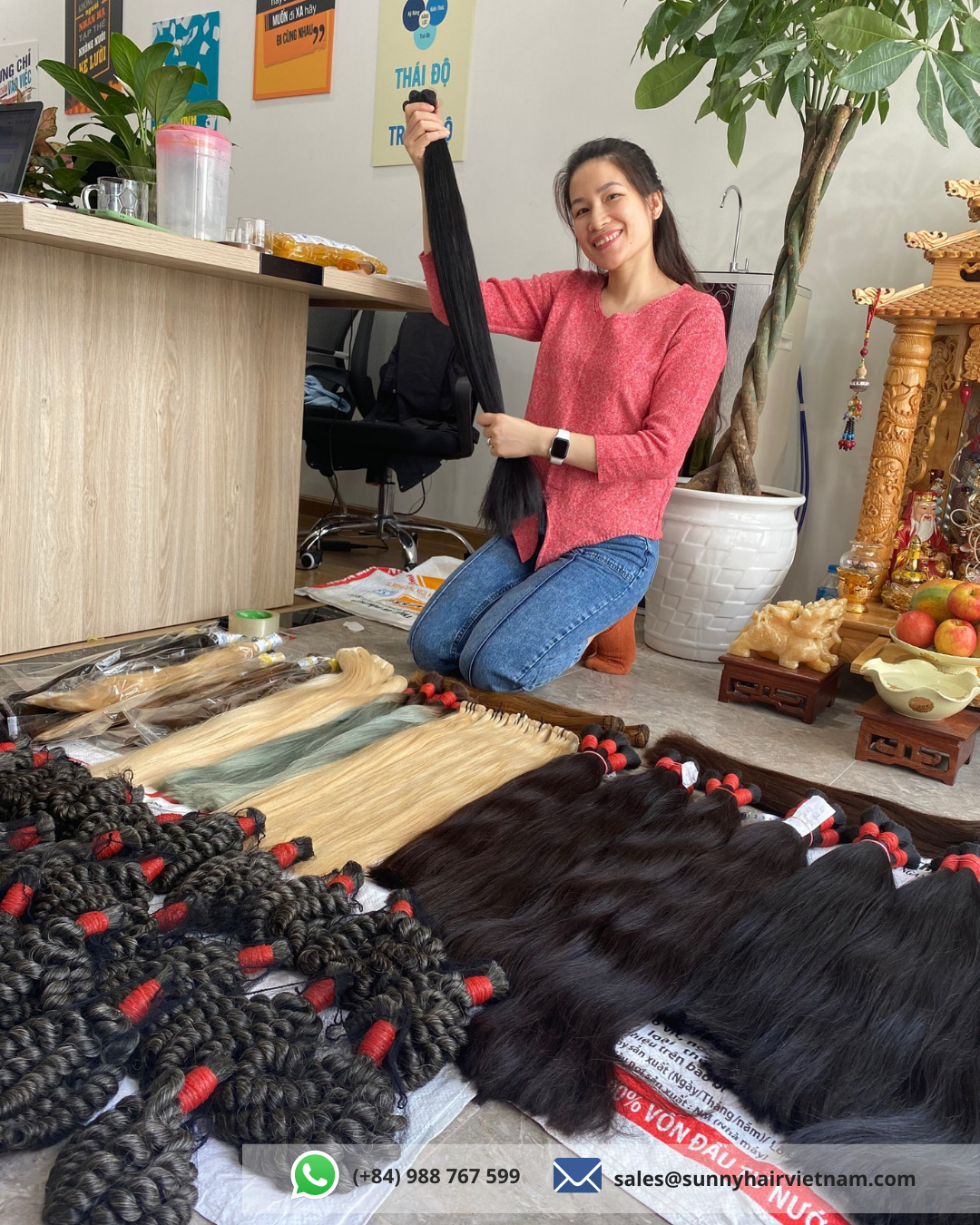 IV. How to make good deals with Cambodia wholesale suppliers.
You may come across different hair prices for the similar products. This is either because of the different quality or just the price difference. Making negotiation is really important. You can negotiate to lower the price by asking for how much can be reduced if you purchase a particular quantity. However, at professional hair vendors, they make a fixed hair price table every time you buy. This makes it harder to lower the price, albeit, the quality comes first, doesn't it? If the price is worth the quality, you should just go for it. These are tips that might help you with negotiation.
Shop round the price
It is recommended to shop round the price or ask for a price list of certain products. Make the average price of that product, that's the appropriate price of that product.
2. Negotiate
After knowing the average price of the product you want to buy, if the vendor you want has a higher price than the average, then it's time to negotiate. You may convince them by saying you'd purchase a larger quantity next time and you hope for long term cooperation.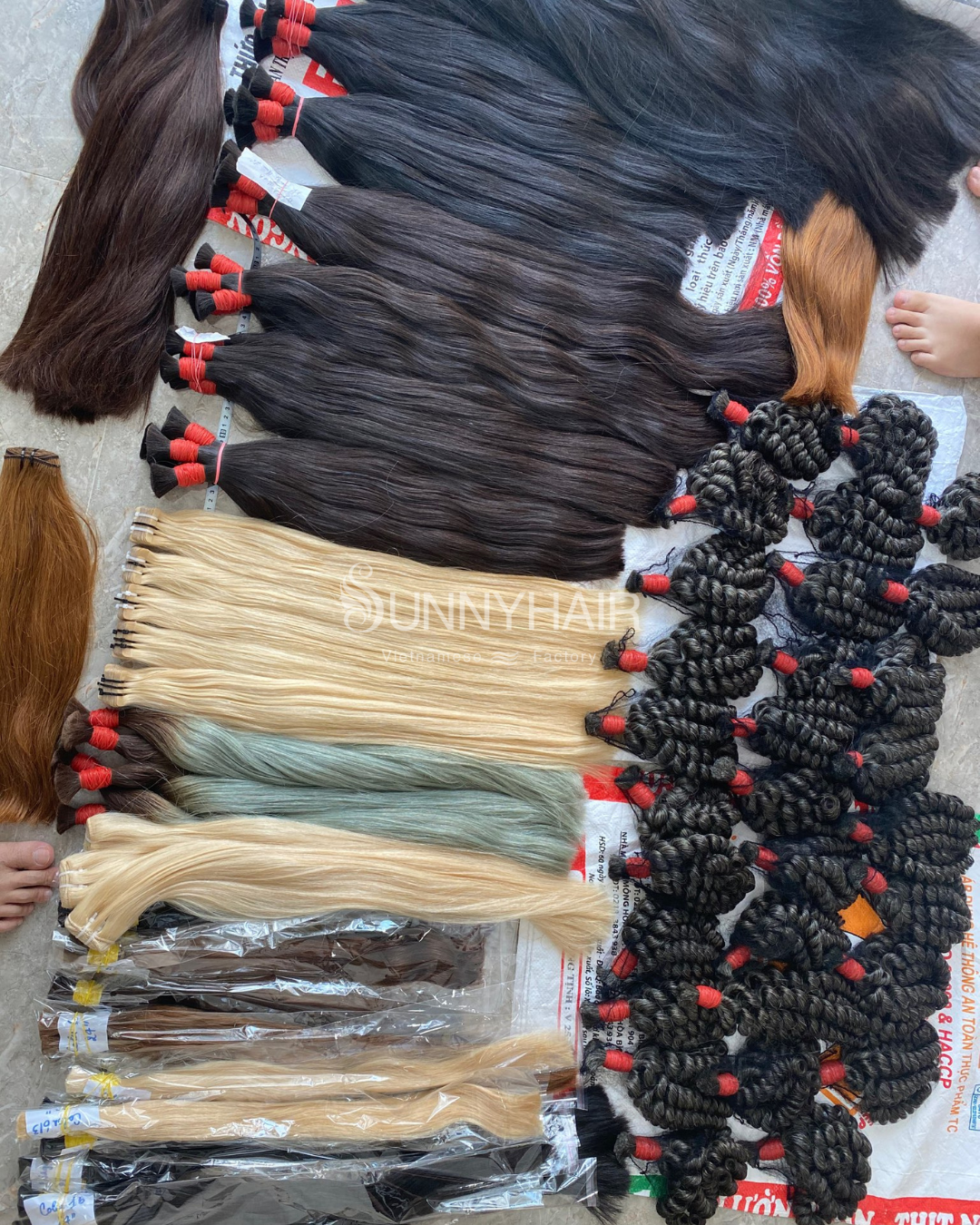 V. Cambodia raw hair price
The table below shows the regular price of Cambodia raw hair. The price may vary upon different vendors.

VI. Cambodia raw hair recommendations
Wavy medium-length wig: 100% remy Cambodia hair. Best human hair quality that's perfect for styling.

Natural short wig: Natural colour Cambodia hair, layered style with barely a wave. This short wig is a real refresh look.

Deep wave Cambodia weft hair : Natural human colour hair extension. This classical deep wave brings the intense volume like a beauty queen style.
U-tip Keratin Straight Kinky 100% Remy Cambodian Hair: U-tip keratin is one of the most popular hair extension methods using hot fusion application. This is most suitable for thick and coarse hair. The bonds are attached close to the root of your own hair, leaving some space to allow natural movement of your hair.
Flat Keratin tip curly hair extensions: 100% Cambodia human hair with natural black brown colour. Made with high quality keratin chips, a natural protein, which provides long-term attachment and minimizes harm to your hair, when heated the keratin, it could be fixed with your own hair to blend naturally with your own hair.

Short bob lace wig with bang: Straight virgin Cambodia hair with lace frontal. The lace is high quality fabric with natural beige colour, which easily fits any skin type.
VII. Top Cambodia raw hair factories
Coming up next are some highlighted names in the wholesale hair market that supply high quality of Cambodian raw hair and other hair products.
1. Sunny hair Vietnam - Vietnam hair supplier
Sunny hair Vietnam has not only been a prestigious Vietnam hair supplier but only a partner wholesale Cambodia hair supplier and other wholesale hair supplier in Southeast Asia. This vendor provides best quality products with the best price. If you're not in Vietnam, the shipping fees might be a little expensive but that's definitely worth the quality.
Website: https://vietnamhairsuppliers.com/

Facebook: https://www.facebook.com/sunnyhairvietnam

Instagram: sunnyhairvietnam

Whatsapp: (+84) 985767599

Email:

Sunny Hair Vietnam

2. Virgin hair Cambodia
Virgin Hair Cambodia (VHC) was born out of the need for ethically-sourced, high-quality hair in the market. VHC aims to make the hair business fair for all parties involved by offering 100% Virgin Remy Cambodian hair verifiable through our transparent sourcing process and ethical treatment of donors. Most of VHC's hair donors live in rural areas of Cambodia where women have very little or zero opportunity to earn money. Selling their hair is a way for them to help themselves and their families. VHC knows just how important hair is to every woman. Hair donors can choose to sell any length and get a favorable haircut.
Available in wefts, wigs, frontals, closures, and facial hair.
3. Apsara Cambodia hair wholesale human suppliers
Apsaras' online boutique specializes in authentic, premium virgin Cambodian hair. Their product line has multiples options for the hair novice, hair enthusiast, hair stylist, or the individual looking to become a wholesaler. In addition to their online boutique, they are a hair collection, manufacturing and wholesale company based in Phnom Penh, the city of Cambodia. They currently have customers from these countries and are continuously looking for new distributors: USA, Canada, UK, Australia, China, Netherlands, France, Spain, Turkey, Germany, Italy, Malaysia, Singapore, Brazil, Russia, Vietnam, Nigeria, South Africa, Ghana.
VIII. How to maintain Cambodia raw hair longevity
1. Washing raw Cambodia hair
First and foremost, let's treat your hair extension and hair wig as if they're your bio hair because raw human hair is just fragile like our hair, which needs proper care. With straight hair, comb the hair from root to tip. In case it's curly and wavy hair. use your fingers to brush the hair instead.
Remember to wash your hair with free alcohol and free sulfate ingredients. A deep moisturizing conditioner is recommended. Let it air dry or absorb the water with a soft towel, after that, you can apply some essential oils like Argan oil or Olive oil to make the hair glossy and healthily shiny.
2. Treatments for raw Cambodia hair
Moisture takes an integral part to keep the hair long-lasting. After swimming or taking part in outdoor activities, wash the hair immediately to remove any dirt and sweat. Remember to wear a swim cap to protect your hair from the chlorine in the swimming pool, which can make the hair dry quickly. Avoid any alcohol-based products and toxic products.
3. Style the Cambodian hair
Due to being real human hair, Cambodian virgin hair can be styled with heating tools. Well-noted that using a tool in a low heat setting is better for the hair, please don't take the heat up to 150 degree Celsius, which can make it burn. Under the effect of heat, the straight hair can be curled and the curly or wavy hair can be straight. If you want to color the hair, you can do it at home, but we still recommend you to be helped by a professional.
4. Bedtime care
As mentioned above, let's consider Cambodian human hair extension as your bio hair, so sleeping with a hair extension is possible. Sleeping on a satin pillowcase will be better as it can prevent the hair from tangling. And make sure that you will go to sleep only when your hair is dry.
Before sleeping, use a silk towel or quality satin scarf to wrap the hair or tie the hair in a low ponytail. Or if you want to keep the natural wave pattern of your virgin hair extensions, you can braid your hair in one or two braids.
5. Prevent tangling
After purchasing Cambodian human hair extensions, few customers complain that the hair is tangled and want to exchange. Although it's 100% human hair, the tangles can be caused by the friction of your natural hair rubbing against your hair extensions; or sometimes, the hair is too dry, which makes the tangles easily happen. Sunny Hair recommends you to use high-moisture shampoo and conditioners, and not to bring the hair when sleeping, taking a shower or swimming.
The best way to keep your extensions tangle-free is to keep on top of regular brushing. Always have a paddle brush on hand so that even when you're out and about you can still give your hair a quick run through. Make sure you brush your extensions every time you apply and remove them.
6. Reduce shedding
Will the Cambodian hair extension shed? Yes, but just a little. Normally, your natural hair will shed approximately 50 to 100 strands a day, that í the reason why the Cambodian hair extensions which are made from natural hair can shed. Every time you brush or style your extensions there will be light shedding. However, you can minimize shedding in other ways.
Washing Cambodian hair extensions too much will dry out the hair which may cause them to shed. The more products you use, the more you will need to wash your extensions, so the best way to reduce shedding is to use a minimal the number of products when styling your hair.
Your extensions have a beautiful, healthy finish already so you shouldn't need much product to enjoy them. If you want more hold when curling your extensions, try pinning up the curls and leaving them overnight or even just for an hour to ensure the curls stay in place without the use of hairspray. If you do want to reach for hairspray, consider a lightweight formula which you can still easily brush through. Extra strength hairsprays will clog up your extensions, which means more washing.