5 best U-tip, I-tip and V-tip Hair Manufacturers in Vietnam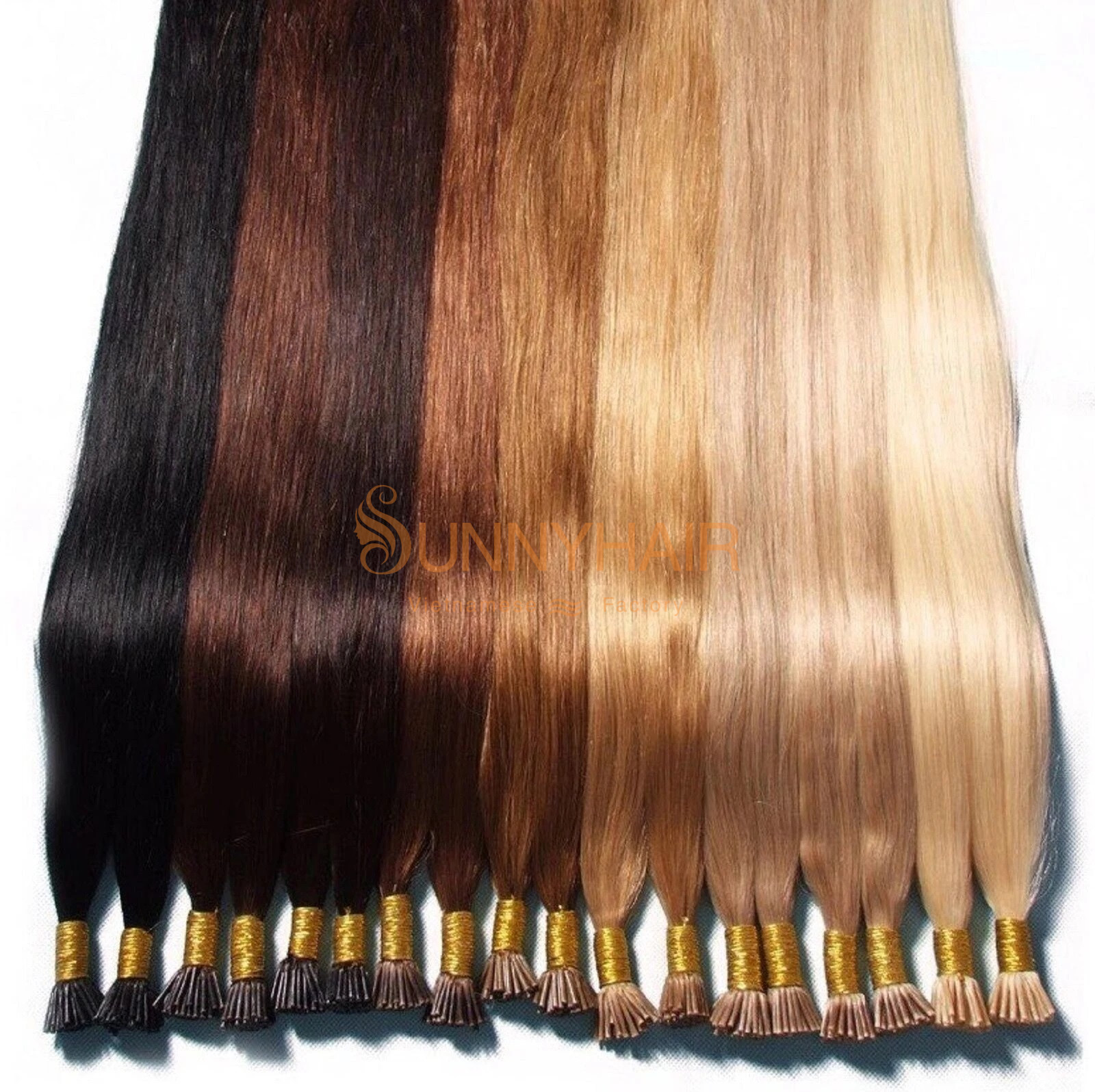 Wigs are nothing new. Hair replacements and extension products and techniques have existed for thousands of years since the age of the Pharaohs. Nowadays, the booming industry of hair wigs and extensions is realizing the dreams of many people - to transform their looks, and bring about changes and positive body images.
The hairy business of extensions enjoy exponential growth, with new products and technologies being introduced into the market everyday. From clip-ins to fusion tips extensions, customers are living in the golden age of choices.
Along with the development of the hair industry, hair extension installation techniques have improved drastically over the years. Today, Sunny Hair will let you in on a local trade secret: Finding the best fusion hair extension manufacturers in Vietnam. Before diving into the detailed information of I-tip and U-tip hair manufacturers, let us brush up some hair extension fundamentals.
I. What are hair extensions?
Hair extensions refer to the products that add length and fullness to human hair. Some of the most common methods of installing hair extensions include clipping, gluing, sewing additional human or synthetic hair on the wearer's natural hair. Hair extension products, naturally, come in the form of tape-in extensions, clip-in or clip-on extensions, fusion keratin tips, weave-in extensions and wigs.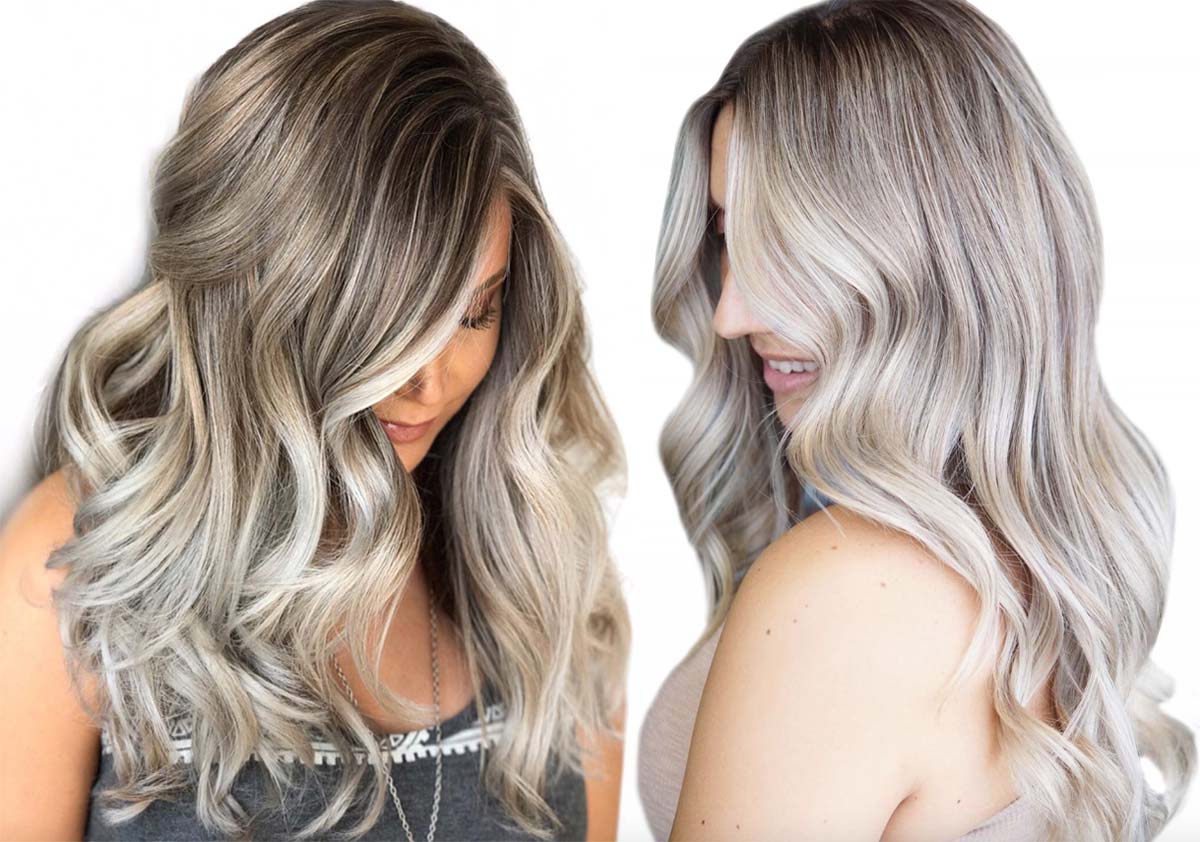 II. Hot fusion and other hair extension methods
Fusion hair extensions are both the original forms, as well as the newest iterations in the wig and extension scene. Using strand-to-strand bonding methods, these extensions exist to improve your hair game semi-permanently. Using keratin as the bonding material, these hair extensions are super real hair friendly as your own hair is made up of mostly keratin so the glue will not damage your hair when the extensions are installed on your tresses.
While it can take a considerable amount of time to install (we are talking two hours at maximum), hot fusion hair extensions are ideal for people with thick hair looking for a long-term hair solution. Thicker hair is stressed here as the glue in the extensions can cause visible bulk in thinner setup.
Aside from hot fusion, there are many other types of hair extensions that you can find at Sunny Hair as we are one of the most reputable hair manufacturers in Vietnam. They include clip ins, sew ins, cold fusion and tape in hair extensions.
Clip in extensions are generally the most convenient type as it takes no more than half an hour to install, and suits those aiming for a quick style change for special events, or fancy sporting the look over a short period of time. Sew-in extensions, meanwhile, can stay installed on your hair for up to six to eight weeks and are a great addition for thick or textured hair, which holds the wefts more easily.
Cold fusion extensions, which are attached to the head using small beads and are one of the most gentle forms of hair extension installation for those concerned with damage.
Finally, tape in extensions use custom-cut sections of hair and a double-sided tape to attach them for a truly custom look. At Sunny Hair, we believe that each of these methods has its place in the world of hair extensions. However, if you are looking for a secure, long-term extension method, hot fusion hair extensions are the best option.
III. Human hair vs synthetic hair - The tales of two extensions
Choosing the right kind of extensions for your personal looks, or a thriving hair business is a tough task. The first important step is to understand the materials from which the extensions are made. Extensions in today's market come from two major sources: human hair and synthetic hair.
Human hair extensions are made from real human hair from donors. Behaving just like real hair, it can be really difficult to tell the difference when these extensions are installed on your tresses. Human wigs and extensions respond well to heat treatment and dyeing, making them super versatile in terms of styling. Human hair extensions will last about 1 year with proper caring regimes, but being high quality the price of these extensions are high as well.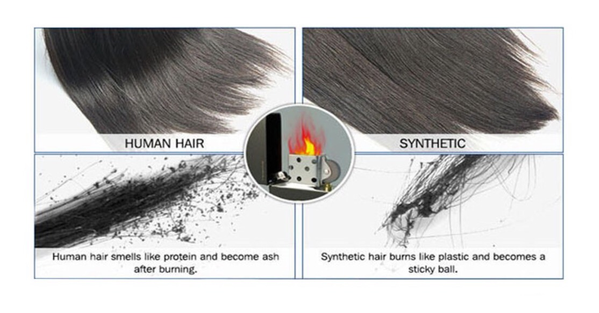 Synthetic hair is made from, you guessed it, synthetic fibers. These fibers don't have hair cuticles and are pre-treated, so they are fixed in terms of styles. This is not entirely a downside as synthetic wigs and extensions hold shape really well, and can easily get back to their original styling after washing in cold water. Synthetic ombres can possess amazing colors which are not possible with real hair dyeing schemes. Synthetic hair is more affordable than real hair extensions, but you cannot dye or apply heat treatment on them. These synthetic strands will melt right off.
I-tips and U-tips keratin hair extensions produced from Sunny Hair are made from 100% human hair and Italian keratin tips with super strong bonds, as we want to bring the best values to our customers.
IV. "Tips" for Tips - What do all the tips mean?
Hair terminologies can get confusing, but there are real and simple differences between U-tip, I-tip and V-tip hair extensions.
I-tip hair extensions are made of hair strands bundled together at the tip with Keratin glue in the shape of tiny rods, hence the "I" letter. Installing I-tip extensions is a process called cold fusion, where the extensions are latched on natural hair using flattened, metal microbeads. There is no heat or glue involved.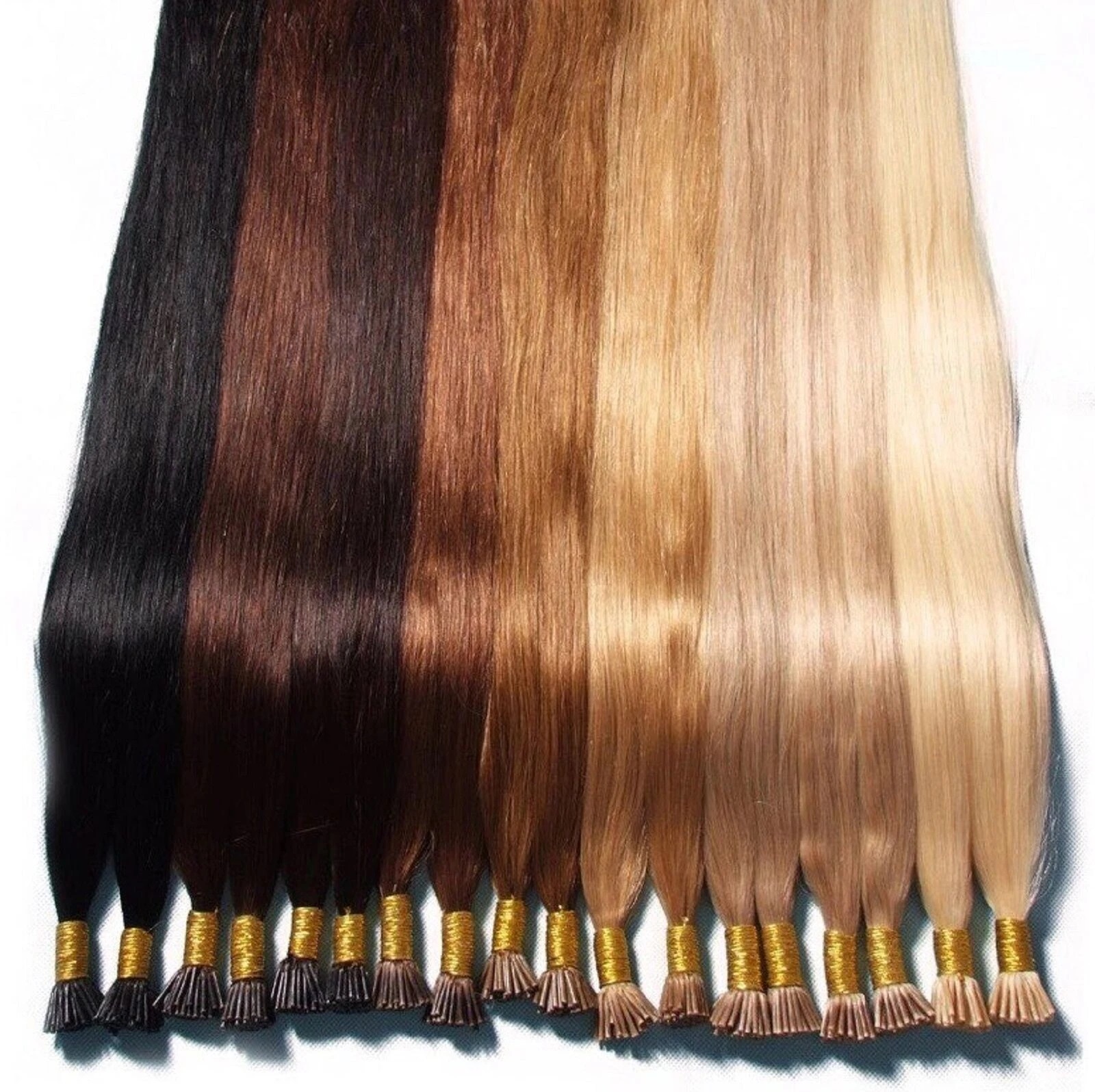 Shaped like the letter U, U-tip extensions belong to the hot fusion hair installation method. This bonding method is called strand-by-strand. It utilizes approximately 20 – 40 strands of hair, attached together at one end using a glue bond/keratin or polyurethane. Strand-by-strand extensions are attached to small pieces/sections of the wearer's hair using a warm (bonded with a heat gun) or cold fusion (copper cylinders and plyers). The keratin glue must be melted using a heating tool, creating a strong and resilient bond on the client's original hair tresses. V-tip extension is just a slightly different variation of the U-tip.
At Sunny Hair, we produce I-tip, U-tip and V-tip hair extensions in our in house factory, using highest quality Italian keratin which is very safe and durable.
V. I-tip and U-tip hair extensions manufacturing process
The manufacturing of Sunny Hair's I-tip and U-tip products shares a lot of steps with our general hair production process. Sunny Hair will take you through them below.
Hair Selection
Hairs of the highest quality are sourced from different areas through the company's material network. Natural hair is usually shaved from single donors and tied as a single piece in different lengths. Hairs in different lengths and sizes are assorted, segregated and sold at different prices as wholesale materials based on their quality and styles, or to be processed further into various hair products.
Hair Arranging
The thickness percentage of the hair is determined by the style and level of maintenance given to it by the person who offers the hair. Some donors prefer to preserve long hair, while others have a mix of long and short hair. The arranging process is to ensure the hair is even.
Washing of Hair
After it is sorted and evened out, the hair is soaked in a solution of conditioners and detergents to remove the dirt, oil and other dust particles. The soaked hair is then washed in water several times until it is clean and sent for the next process - drying.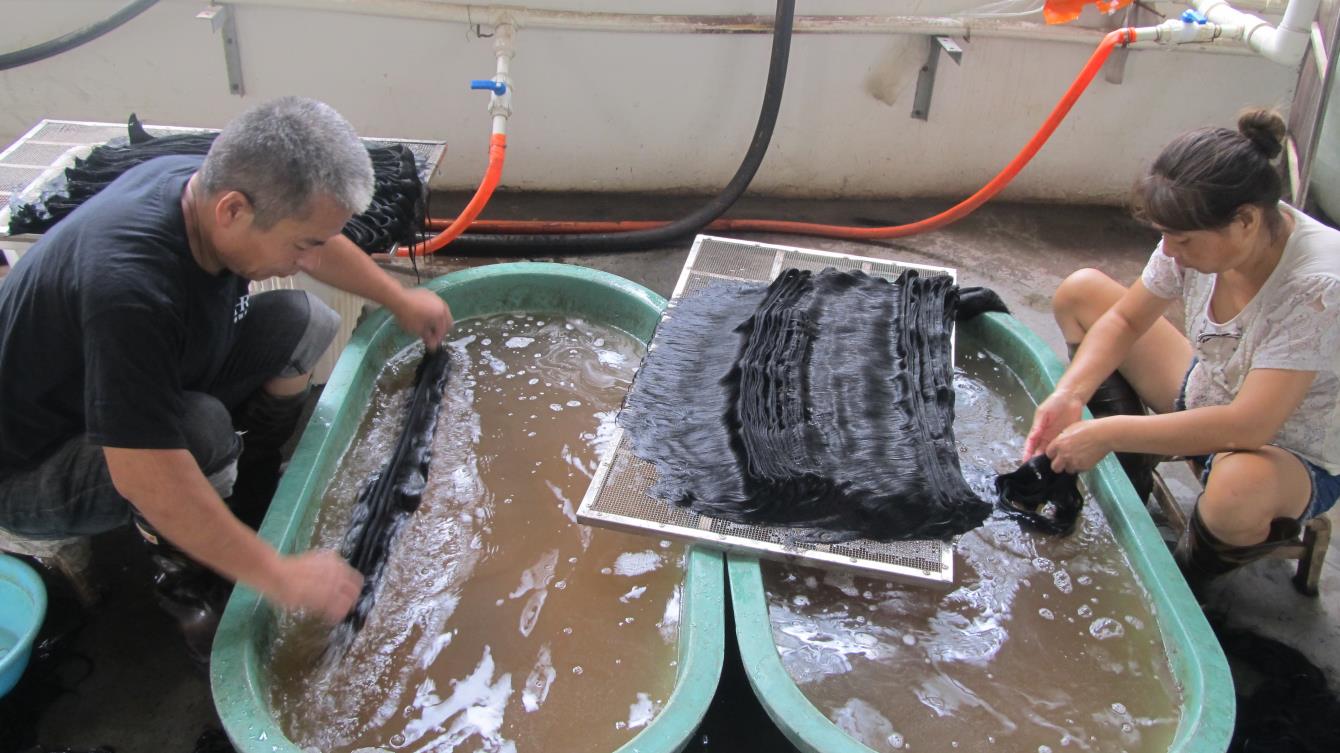 Drying
Sunlight is essential for proper drying. The washed hair is sun dried for several hours to soften off. Drying hair by heater tends to give it an odd odor so it is generally not advised. Sun drying can make a lot of water evaporate and cause hair weight loss after washing, but it is much easier to identify the texture of hair after a proper process.
Hackling
Hackling is a process to arrange the hair evenly according to the sizes. All short hair removed from the pieces is arranged for further process. Only our trained professionals can do this job. Extreme care is taken in this process to avoid mixing of the head and end of the hair and one mistake can be costly. The top and end of the hair should be arranged in the same direction, and only then the product is ready for the next phase.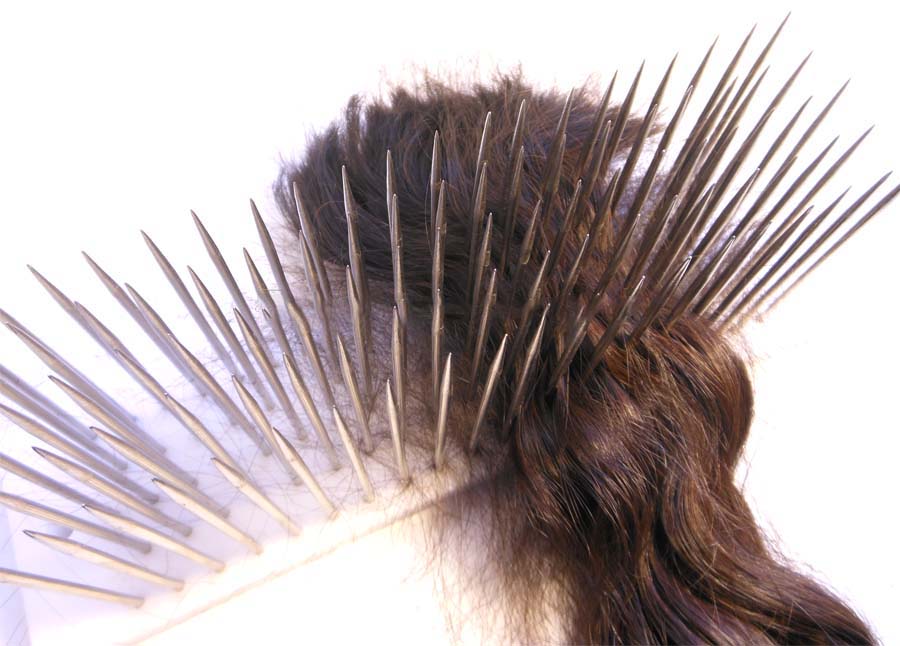 Stocking
The hackled and arranged hair is stocked in racks of different sizes for further process like welfing, coloring, bleaching, etc. These are also known as ready stock and this is what is available at any time. From this inventory, hair is selected for any other process.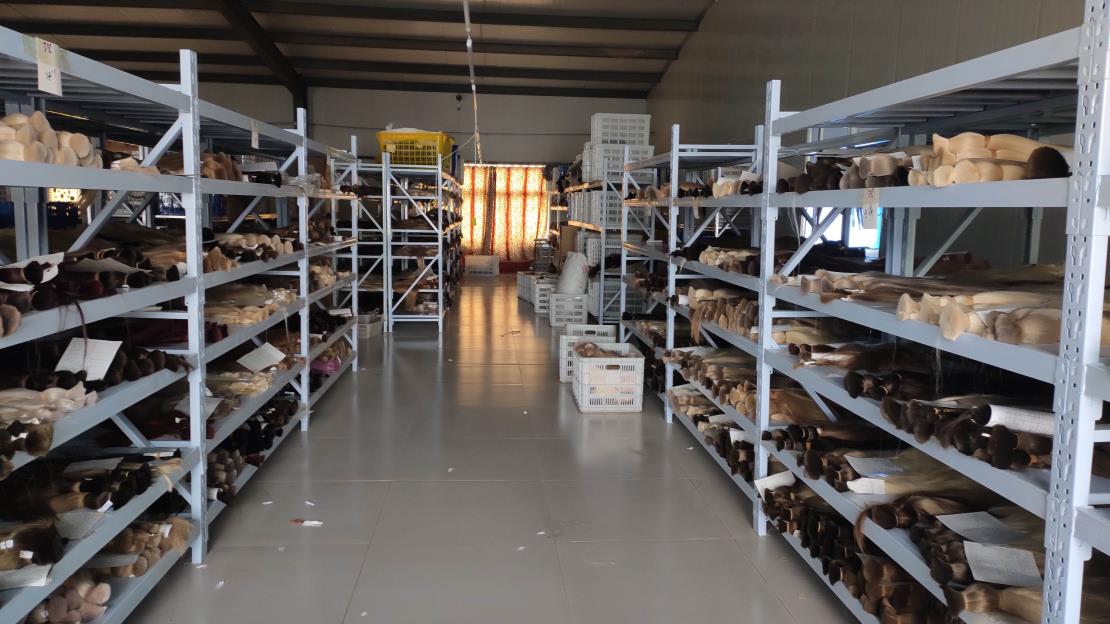 Color Stripping & Dyeing
All color is removed from the hair. This enables the hair to retain its new color better. The hair is then dyed a specific shade.
Keratin Treatment - I-tip and U-tip production
The process of making I-tip and U-tip extensions are rather straightforward with proper equipment. You will need processed hair from the previous step, keratin glue, heating tools and hair press machines.
Processed hair is bundled into tresses, categorized by length, style and weight.
The tips of each bundle are then coated in keratin glue, melted on a heating table. Natural hair is also made of keratin, so this process does not cause any harm to the product.
After coating, the tips go through a press machine for final shaping and get bonded to the hair. The press machines have metal head molds of various shapes (U-tip, V-tip and I-tip) to produce desired tip heads.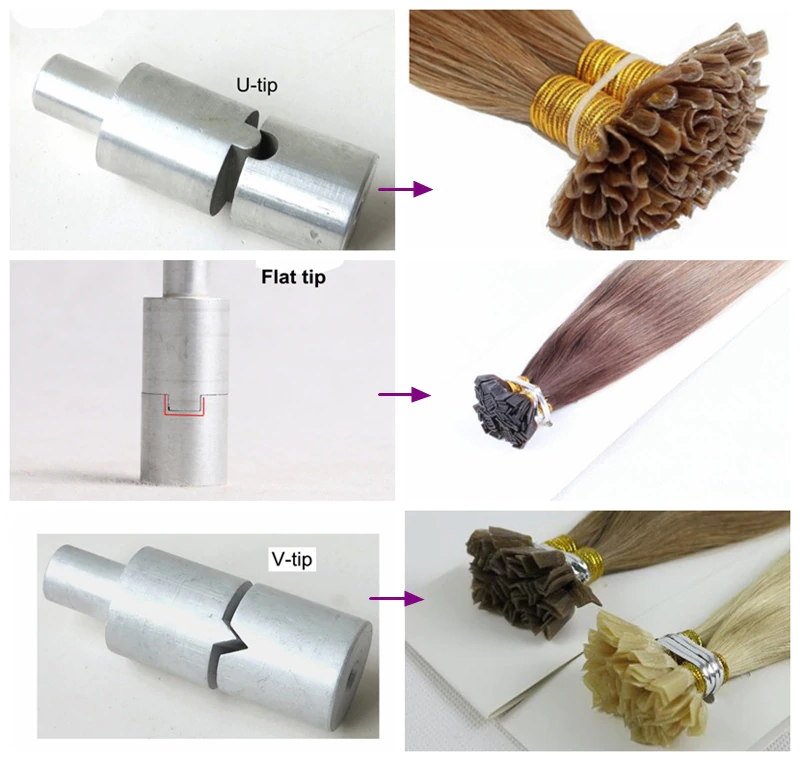 Prepared and Packaged
Depending on the type of hair extension the hair is made into (perhaps 'bonds' or 'weaves'), the hair is prepared and then packaged to be distributed to salons.
VI. Choosing the best U-tip, I-tip and V-tip hair manufacturers in Vietnam
1. Vietnamese Fusion Hair Manufacturer by Google
In the Internet age, the most obvious and best way to find a reliable Vietnamese U-tip and I-tip hair vendor or manufacturer is through Google.
Keywords such as human hair wholesale, U-tip hair supplier, I-tip hair manufacturer or Vietnam hair factory can help you search for results. You may also want to put in keywords for where you want to have the hair from. In the hair market, Chinese, Brazilian, or Indian hair are some of the biggest names. However, hair suppliers and manufacturers from Southeast Asian such as Vietnam, Laos, Cambodia, Burma have been on the rise over the decade as international trade improves. Long keywords such as Vietnamese U-tip and I-tip suppliers, Brazilian curly hair wholesalers, ... will be very specific and helpful.
Blog posts are also helpful for you to choose the best Vietnam fusion hair manufacturers. Such as:
Wholesale Burmese Human Hair Manufacturer & Factory - The 3 Best Burmese Human Hair Suppliers
Cambodian Hair Factories and Manufacturers – Top 3 Best Cambodian Hair Suppliers
2. Vietnam Hair Manufacturer on Alibaba
Online trading platforms are a great option in finding Vietnamese fusion hair manufacturers. They are business-oriented B2B platforms that provide and promote local businesses and products to buyers all over the world.
Alibaba is a long standing, and the most famous online trading site. The number of companies and services provided and promoted on the site is massive, hair extensions included. Entering keywords like U-tip, I-tip and V-tip hair manufacturers will net you numerous results. Make sure to filter results based on location to find our the Vietnamese suppliers that suit your needs. Alibaba is one of the platforms that Vietnamese hair manufacturers are promoting to expand their market.
Despite the convenience, Internet-based trading platforms can overload you with information. Therefore, after looking up U-tip and I-tip Vietnam hair manufacturers or wholesalers on Alibaba, it is recommended that you verify their products and claims directly at their websites. As middle men, Aliexpress, Alibaba or Amazon charges transaction fees on the seller, so sometimes you can find yourself great deals if you deal with the companies you found directly. Make a list of your potential hair suppliers, and visit their websites or contact them directly to compare prices.
3. Fusion hair manufacturers on social media Instagram and Facebook
Nowadays, with thousands of millions people online everyday as potential customers, Internet shopping has become mainstream. online businesses all over the world are trying to engage not just local but international customers, as well as potential business partners. They are doing this through social media platforms such as Facebook and its image-centric sister - Instagram.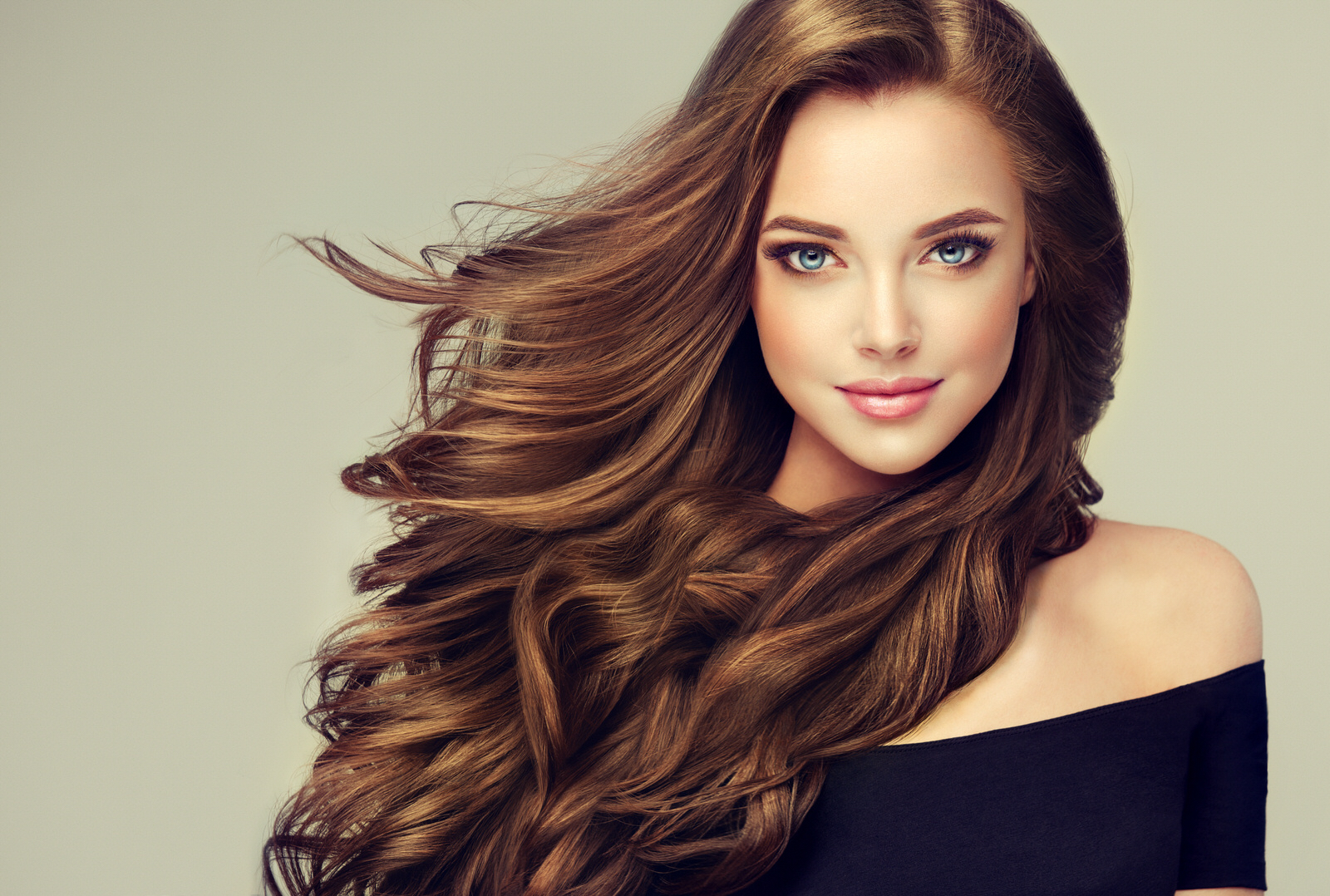 For the above reason, if you are looking for top Vietnam U-tip, I-tip and V-tip hair vendors, besides searching them on google/ Alibaba, you can try to search for them on Instagram and Facebook. On Facebook/Instagram, it can be incredibly informative as sellers will post pictures and videos of their real products on the site, not just place-holding images you see on their websites.
Sunny Hair also has a very active Instagram page where we interact with our fans and customers. Click the link below to see more Sunny Vietnam Hair Manufacturer's products!
VII. Steps to pick the most trustworthy Vietnam U-tip, I-tip and V-tip Hair Suppliers
Nothing beats a real factory trip to the site. Unless you can see and feel the hair, you are always giving your trust online when it comes to buying hair extensions. Sales pitches are there, but you have to verify them. The following steps may also help you in selecting the best Vietnam hair factories and manufacturers.
Review the customer reviews
Look beside the 5-star, top reviews, and into the "bad" ones. They will show you a side of the business that you need to be aware of. Are customer complaints being addressed? Are they active in answering fans and inquiries on social media? Does the glue in the U-tip or I-tip hold? Does the website have a professional look, important and clear information on delivery and payment terms? These are the things you should look for.
Ask for samples
Make sure to establish connection with your selected business and ask for real product samples. You may have to pay for the samples as it is unlikely the hair manufacturers will send them to you for free.
Even when you receive the sample, be skeptical! Nothing ensures that it will be representative of what you will eventually get.
Ask for their company returns policy
Make sure that you understand their returns policy, and how they perform quality control.
Go on company visit
This is the most costly, but most reliable way to verify if a Vietnamese U-tip, I-tip and V-tip hair manufacturer is serious in their game. Ask for contacts first, then schedule a visit to the country and all the factories and manufacturers in the region that you plan to do business with.
VIII. Ranking the best Vietnamese U-tip, I-tip and V-tip Hair Manufacturers
As a rising star in the hair extension manufacturing scene, Vietnam has reputable and strong suppliers for your business success. Below are our top 5 picks.
Vietnam Remy Hair
Vietnam Remy Hair is a professional human hair supplier established in 2011 in Hanoi. The company's earliest history can be traced back to 1999 when a couple started their business collecting real human hair from Vietnam, Laos, and Cambodia.
The product range is a collection of diversified hair extension products with different styles, weavings, lengths, thickness, and colors such as straight weave hair, ponytail hair extensions, hand-tied weft hair extensions, and closures.
Remy Hair's factory is located in Nam Dinh province with more than 300 full-time skilled workers. The company collects hair from all over Vietnam and promises that each strand of hair is collected from one single donor which guarantees the intact condition of the hair.
Currently, Remy's products are exported and shipped to overseas markets like the US, Canada, South America, Europe, Russia, and Africa.
Products

Straight weave hair

Wavy weave hair

Hand-tied weft hair extensions

Ponytail hair extensions

Highlights extension

Closures

Lace wigs
Location: No.4, Hai Boi Village, Hai boi commune, Dong Anh district, Hanoi, Vietnam
Sunny Hair Vietnam
With 10-year experience in the hair industry, Sunny Hair is always proud to be the best distributor of fusion human hair, namely I-tip, U-tip and V-tip hair extensions . Buying a large quantity from this distributor, you will get the cheap wholesale price.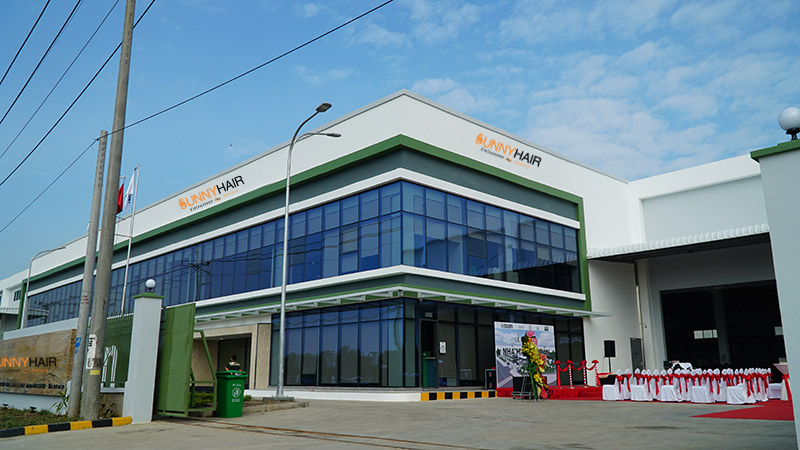 The hair is taken from young women from 18 to 25 years old in remote villages across Southeast Asia, therefore, they are very strong and healthy. Sunny hair committed to ethical human hair sourcing and supporting the women donors. With Sunny hair, you always know exactly where your hair comes from.
The expansion in the factory scale is a solid foundation for us to develop more diverse hair products in different designs, styles, sizes and colors. More than 50 full-time and 30 part time dedicated staff, diligent, patient workers with skillful hands are always hard at work to produce the best hair products with the best quality. Our average employee's age is 42, composed of 72% women, mostly from local communities. Thanks to our hair factories, people here have a stable job and income without having to go far away from home to make a living, the hair profession is therefore preserved and passed on to the young generations. Sunny Hair takes our social responsibility very seriously!
Main Products:
100% natural Virgin hair including bulk hair

keratin hair extension

weft hair

colored hair

wigs

some extensions including taped-in hair

clip-in hair
For many years, we have been on good terms with friends and business partners. We realize that as we help others, we get more than just revenue.
Contact Information:
Website: www.vietnamhairsuppliers.com
Instagram : sunnyhairvietnam
Fanpage: Sunny Hair Vietnam
Whatsapp : +84 988 767 599 (CEO – Mr.Sunny)
Beequeenhair Import-Export JSC
Established in 2003, Beequeenhair Import-Export JSC focuses its business on supplying natural hair to the domestic and international markets. Beequeenhair supplies hair with different colors, lengths, thickness, and textures. In particular, the company specializes in supplying wholesale weft and bulk hair extensions hair.
Customers can choose weft hair, bulk hair, tips hair, tape hair and clip-in hair extensions with the length from 6 to 32 inches. Furthermore, Beequeenhair also supplies a variety of other hair products like ponytails, hair closure, and wigs. Special products like wigs, frontals, and closure hair extensions will be handled by hand for the sake of keeping the natural look of the products.
Products
Clip-in hair

Tape-in hair

Weave hair

Flat-tip

I-tip, U-tip, V-tip hair

Lace closure

Lace frontal

Ponytail

Wig hair
Location: No 68, Nguyen Co Thach street, Nam Tu Liem district, Ha Noi city, Vietnam
Anka Hair JSC
Anka Hair JSC has more than a decade's experience in the industry of supplying human hair in Vietnam. The company offers a wide range of natural and processed virgin hair products such as weft hair, bulk hair, dyed hair, curly hair, and customized hair extensions. Customers can find products of different textures, colors, lengths, and thicknesses.
In addition, Anka Hair has a multi-language sales support team in Vietnamese, English, French, Russian, and Portuguese to aid customers from overseas.
Products
Single and double drawn hair

I-tip, U-tip, V-tip hair

Lace closure
Location: No. 7A, Lane 850, Lang Street, Dong Da District, Hanoi City, Vietnam
MCSARA
MCSARA was founded in 2014 in Hanoi specializing in the production of hair extensions and wigs. The company offers various types of human hair extension products such as natural virgin hair extensions, weave hair extensions, tape-in hair, keratin hair and wigs, allowing customers to choose products of different styles (straight, curly, wavy), textures (rough, smooth), lengths (from 6 inches to 32 inches ) and colors (black, blond, light brown, auburn).
Currently, MCSARA primarily works with clients from Europe and North America and is planning to stretch its market to Latin America, Africa, and the Middle East.
Products
Weave hair extensions

Tape-in hair

Single and double drawn hair

Clip-in hair

Keratin hair

Closure and frontal hair Wigs Tape rolls Tap removers
Location: 6th Floor, No. 24 Nguyen Co Thach Street, Cau Dien Ward, Nam Tu Liem District, Hanoi, Vietnam