TOP 5 INDIAN RAW HUMAN HAIR FACTORIES AND SUPPLIERS
TOP 5 INDIAN RAW HUMAN HAIR FACTORIES AND SUPPLIERS
I. Top 5 best Indian hair suppliers
After all analysis about the factory and products of Indian hair distributors,let's see what are the top 5 recommended suppliers. All of the suppliers mentioned below are those with the best overall quality.
1. Sunny Hair Vietnam
With more than 8-year experiences in India Hair Market, Sunny Hair is always proud to be one of the best distributor of India human hair. Buying a large quantity from this distributor, you will get the cheap wholesale price.
Main Products: 100% natural Raw hair including bulk hair, weft hair, colored hair, wigs, some extensions including taped-in hair, clip-in hair, keratin hair extension.
Contact Information:
Website: www.vietnamhairsuppliers.com
Instagram : sunnyhairvietnam
Fanpage: Sunny Hair Vietnam
Whatsapp : +84 988 767 599 (CEO – Mr.Sunny)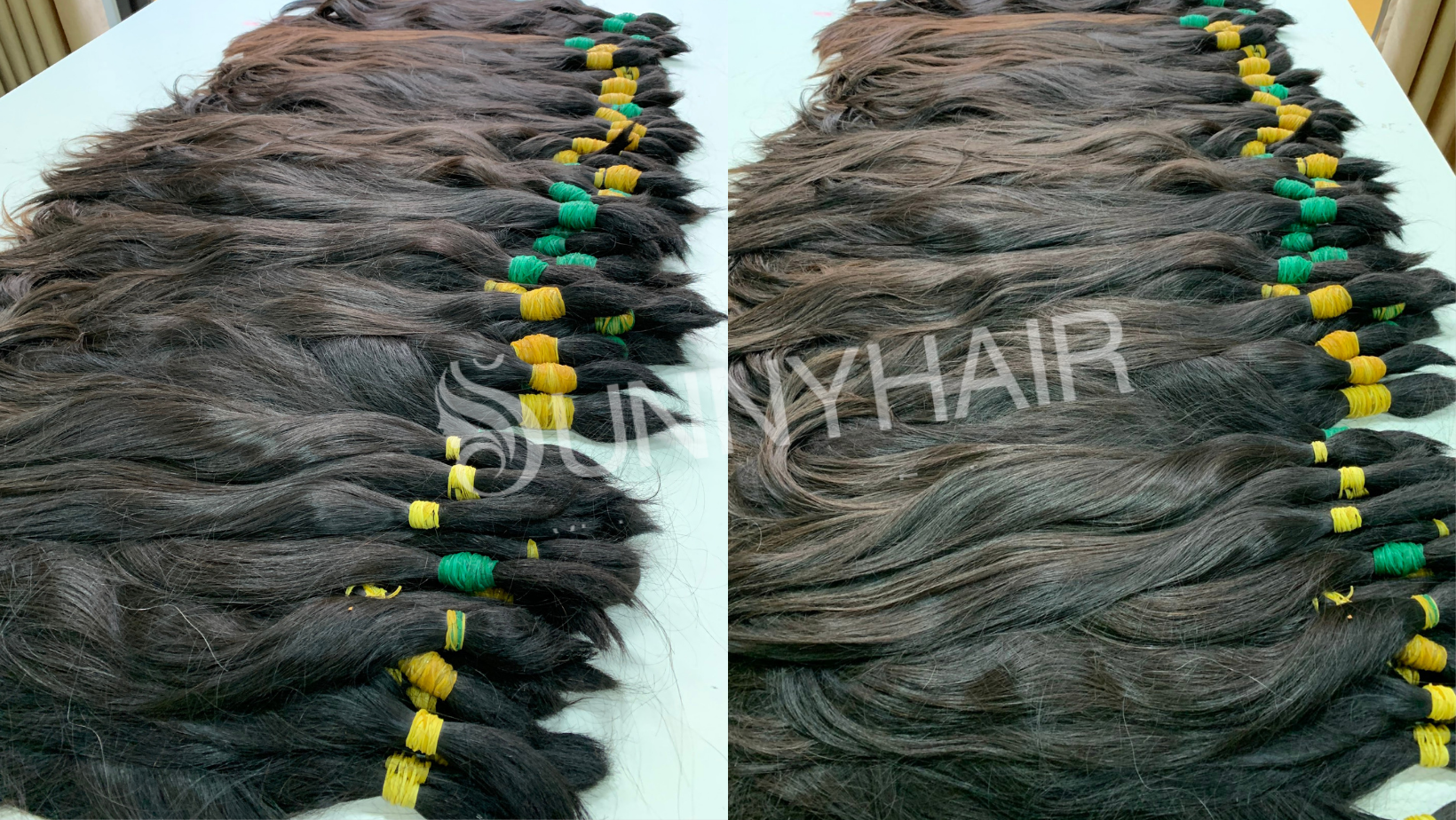 2. Indian Original Hair
Opening since 2016, this factory has 2 main branches, one in India and one in Atlanta. With more than 6-year experiences, we can confidently declare that they have mastered our trade. They are well-known as one of the largest and top providers of Indian Raw Unprocessed 100% Human Hair Extensions and Wigs.
Contact Information:
Website: https://www.indianoriginalhair.com/
Instagram : indianoriginalhair
Email Address : [email protected]
3. Indian Raw Hair Vendor
With more than 11,4k followers on Instagram, they are one of the leading suppliers of Indian Raw Human Hair.
They are a Manufacturer, Exporter and Distributor of Hair Extensions, Frontals, Closures, Prebonds & Tapes, Clip-ins, Wigs and also NATURAL & PURE ESSENTIAL OILS from India.
Contact Information:
Website: https://hairbysunbodexim.com/
Instagram : indianrawhairvendor
WhatsApp : +91-8439889996
4. Indian Mermaid Hair Extensions
This Indian hair supplier is one of the most popular wholesalers that hair vendors and salon owners find online when looking to do business in the hair industry. This website offers a wide range of sorts, such as bulk, weft, hair extensions, wigs, and so on, for clients to choose from.
The business is known to employ the triple wefting process to stitch their Raw Human Hair, which is renowned to produce a solid and thick appearance that many people aspire to. They are also renowned to sell a wide range of wigs, including full lace wigs, Jewish silk top wigs, closure wigs, and so on.
Contact Information:
Website: http://ww12.indianmermaidhairxtension.com/
Instagram : indianmermaidhair_usa
5. SGI Hair
This is another another wholesaler well-known for dealing with such things. One regulation on this site is that the consumer must first register before they can begin ordering.
They are well-known for exporting high-quality, affordable price, natural human hair wigs and extensions. They are in Chennai which is a city of India.
Contact Information:
Website: https://www.sgihair.com/
Instagram : sgihairs
WhatsApp : +919884333534
II. How to find a reliable Indian Raw Hair Factory
Finding a trustworthy Indian Raw Hair dealer is a difficult undertaking. If you want 100% Indian human raw hair bundles, avoid Chinese hair vendors (no offense to the nation), but they are quite popular in blending animal hair and synthetic fibers into the hair bundles, which produces allergic responses on your scalp when worn.
The next stage is to screen Indian Hair Vendors depending on their location. India, the subcontinent, has an area of 3.3 million km2 and 29 states. If you've done your basic study on the human hair industry, you'll know that the principal supply of human hair comes from Indian temples in South India, and South Indian hair sellers are more likely than North Indian hair vendors to sell unprocessed raw Indian hair directly from temples.
This is due to two factors, the first is that there are very few temples in North India that have a system in place to accept human hair donations and sell them at auction. As a result, vendors from North India source the hair from salons where customers decide to have a big chop of their overprocessed hair and also collect the floor hair, also known as comb hair, and process them extensively to make them into bundles.
We are not saying that all south Indian vendors provide real Raw Virgin Human Hair, but given that they are manufacturers with a fully equipped factory, it is simple for them to obtain and make excellent grade virgin Cuticle aligned hair extensions.
Besides, Sunny Hair Vietnam has over 8 years of experience in this market, importing and exporting to India, so we are certain that our hair quality will not leave you disappointed!

III. What is Indian Raw Hair
Since the cuticles are not stripped, raw Indian hair is considered to be the best quality of human hair. Preserving the hairs' cuticles and aligning them in a unidirectional fashion creates extensions that are completely natural in appearance. Raw Indian Hair will have split ends, and will have a non-uniform curl pattern. The color can also slightly vary.
Any hair with a perfectly uniform pattern is almost certainly not Raw Indian hair. Raw Indian hair is hair that grows out of a person's scalp that is natural and chemically untreated. The majority of people do not have a perfect wave from root to tip, and their hair usually has irregular curls, waves, or ringlets.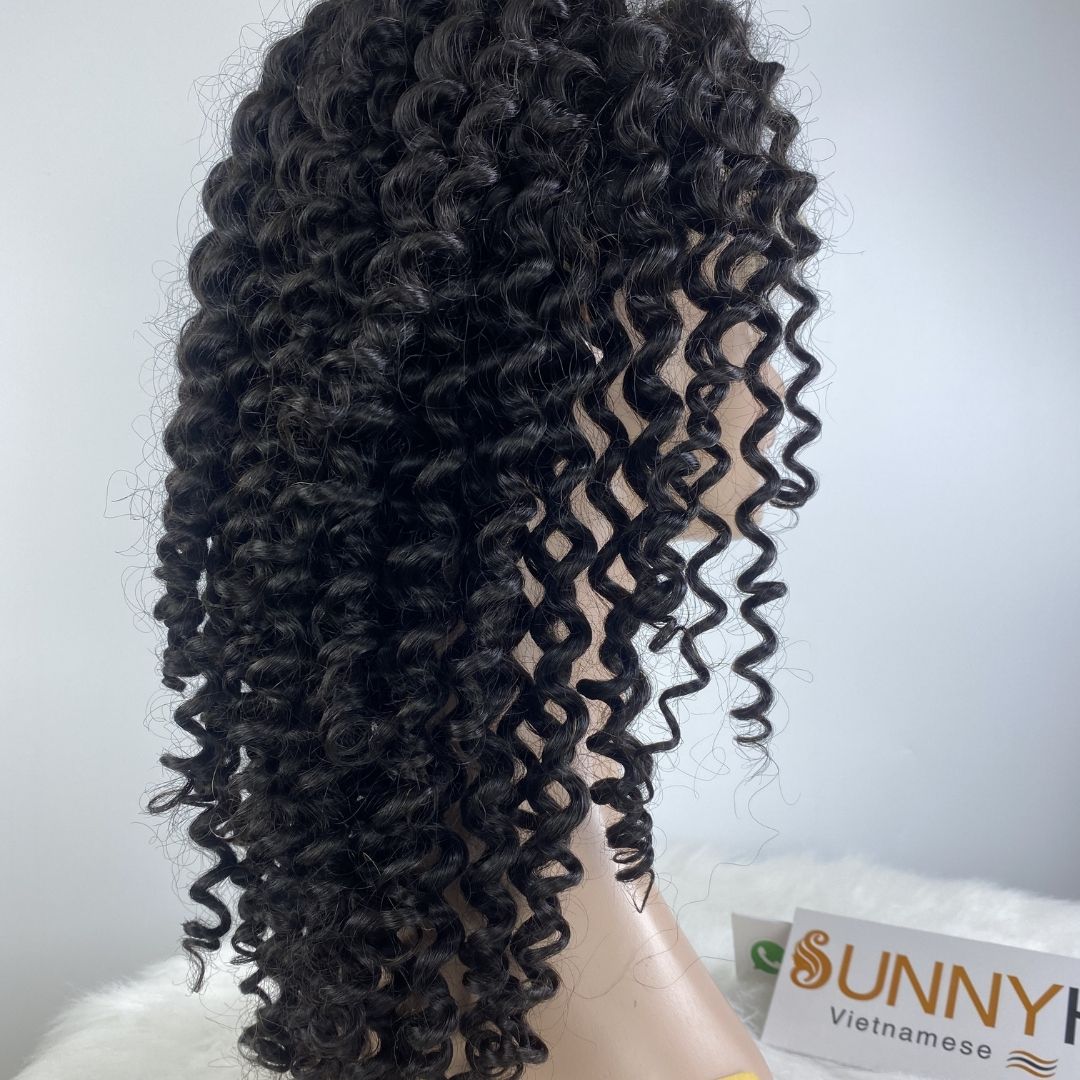 IV. The Origin of Indian Raw Hair
Before we go into the top 5 greatest Indian hair manufacturers, we want to firstly give you the overview of all Indian hair factories. We will learn where the hair comes from and how it is produced as a result of this. As a result, we will have a better understanding of hair quality and price in general.
Indian hair temple vs Indian hair ball
There are 2 significant sources to mention when talk about Indian hair : Indian hair temple and Indian hair ball.
When it comes to Indian hair, there are two important sources to consider: the Indian hair temple and the Indian hair ball.
Indian virgin hair extensions and Indian remy hair extensions come from the Indian hair temple. The majority of them are remy hair. Temple hair is hair that has been obtained from temple donors. In India, it is customary for people to shave their heads at temples to show their respect for God. Hair from one or more donors is then gathered and used to create hair extensions.
Indian hair ball is the origin of non-remy hair extensions and remy human hair in bulk supplied by Indian hair suppliers. The hair is collected from salon floor, public bathroom floor or pipe. It is exactly hair waste from multiple people, so it is called non remy hair, and the quality is super low.
V. The features of Indian Raw hair
1. Indian Raw Hair Texture
The natural texture of Indian Raw hair varies from slightly wavy to deep curly. Deep curly hair is not very abundant and always short in supply. Slightly wavy to deep wavy hair texture is most abundant in natural virgin Indian hair. If you are looking for bone straight hair or a very specific curl pattern, you may not get exactly that kind of texture off-the-shelf.
Typically, virgin Indian hair is sold in three textures
Natural Straight (which is actually lightly wavy)
Natural Wavy
Curly (the curl tightness may vary slightly).
However, virgin Indian hair is so versatile that you can very quickly flat iron your hair to get your sleek straight look or curl it to your desired style.
2. Indian Raw Hair Color
Indian raw hair comes in natural shades of black and dark brown and everything in between. Virgin Indian hair is never sold by specific "color codes". Since virgin Indian hair is never colored and it is sold in its natural state, there may be slight variation in color between bundles. However, if this is the case don't get disappointed. This is actually a good thing. Your experienced hair stylist knows how to blend two packs of hair with slight color variation. And when it is blended properly, this actually gives you a more natural look and better depth of color, because in our own head, hair naturally has multiple shades of color and is never of one flat color.
3. Indian Raw Hair Bleaching and Dying
Full cuticles of Indian raw hair make it much easier to color, dye, or bleach. However, Sunny Hair Vietnam recommend you that it should be done with the good quality coloring materials by a professional or prestige factory to ensure that your hair will be long-lasting.
VI. Why you should choose Indian Raw hair
1. Indian Raw hair styles
Indian hair is lustrous and thick, making it more flexible and durable than other hair. Its beautiful texture and naturally dark color works well for hair weaving applications. Indian Hair can be styled to achieve any look you want while the hair maintains its natural beauty and lasts for a very long time.
2. Indian Raw hair length
It ranges in length from 8 inches to more than 30 inches, depending on your requirements. In reality, Indian hair grows quicker than others because Indian women do a 'champi' every week (if not more frequently) to make their hair grow long, thick, and strong. A champi is simply a hot oil massage, warm the oil on the burner for a few seconds before massaging it into your scalp with hard circular motions using only your fingertips (not your nails)
This time-honored therapy is effective because coconut oil contains lauric acid and Vitamin E, which profoundly condition hair and seal split ends, while the massage increases blood circulation and encourages hair growth.
3. Indian Raw hair feeling
When applying Indian hair to your hair, you will feel the soft touch, thick, lustrous, smooth and don't tangle easily. A perfect piece for a new you!
4. Flexible
The hair can be easily adjusted and attached to users' hair. You can instantly change up your hairstyle, quickly going from work mode to night on the town with little effort. They're also ideal for special events when you want to add a personal touch to your look to make your event stand out. And if you are bald or have hair loss on one side of your head, Indian hair extensions or wigs are your best option.
5. Long-lasting hair
Indian Raw Human Hair is the best quality of Indian hair and it is the unprocessed human hair in any way. Raw hair is usually better quality but in keep in mind it will be more expensive. However, you get what you pay for, unlike virgin hair, raw hair can last up to 3 years or more.
6. Reliable origin
Contrary to what others believe that the hair used in wigs and extensions comes from dead corpse it actually comes from women who choose to sell their hair in exchange for money or as a part of a ritual like an act offering to their God just like what the Indians do.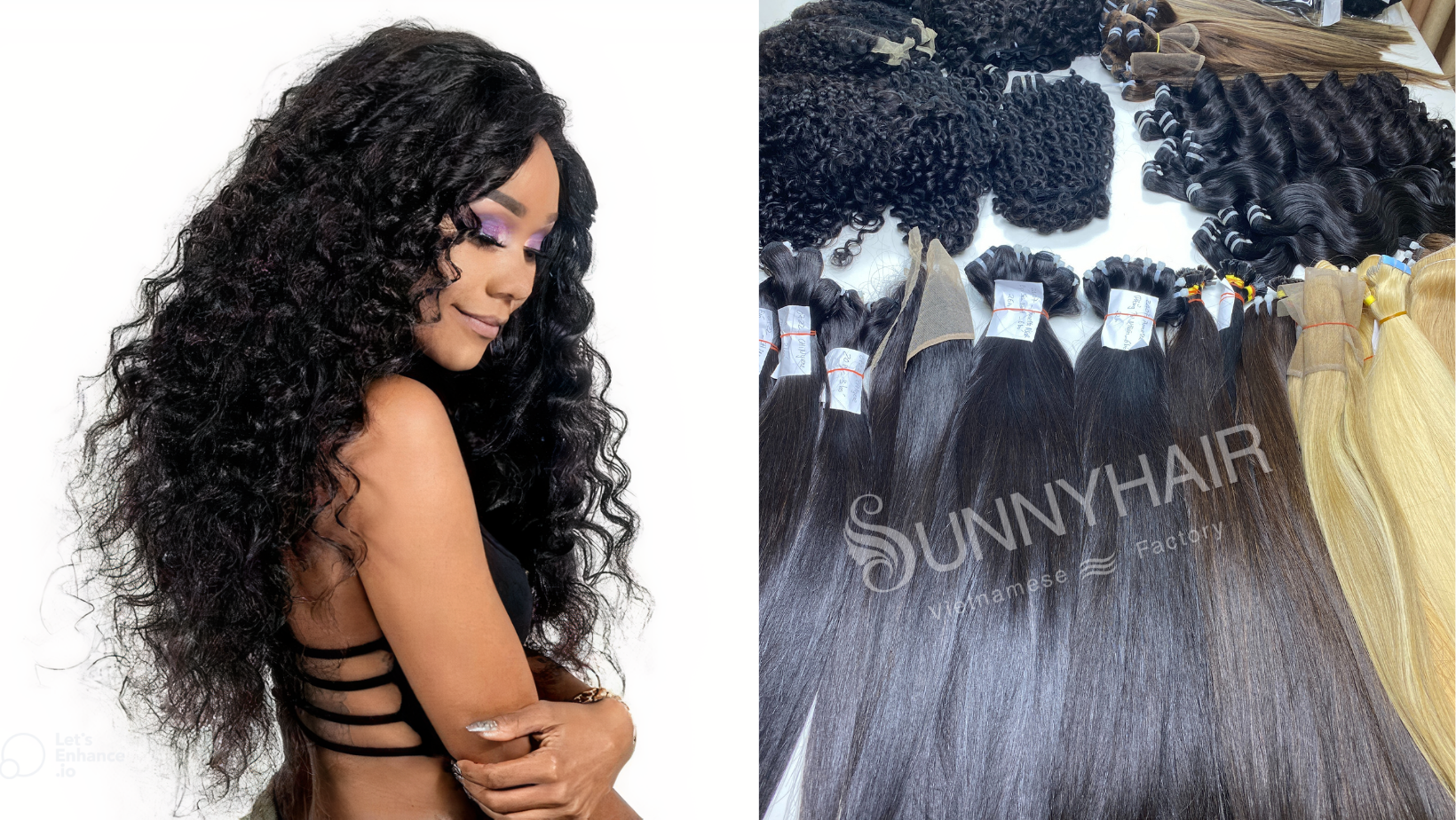 VII. How to care for Indian raw hair?
Cleanliness:
Shampoo and condition hair weekly using warm water. Cleansing your hair once a week will keep dirt and sweat out of your hair, preventing tangling. After cleansing, apply a leave-in conditioner to the ends of hair and work your way up to the roots.
Detangling:
Make sure to gently comb Raw Indian hair after each wash and every day. When detangling the hair, begin at the ends and work up little by little to the roots. Keep a spray bottle handy to keep hair moist, easing the process and minimizing breakage.
Drying:
It is important to let the extensions air dry and if a blow-dryer is necessary, keep setting on cool. The heat from a blow dryer can damage the hair and even shorten the life-span. To prevent tangling while air drying, section and plait hair into large braids.
Avoiding Dry Ends
Use the Silk Shot serum right after cleanse to combat heat and split ends while helping leaving your hair with a luminous shine. This method works as a protective coat on hair, preventing water from evaporating, thus helping to keep it hydrated, soft, and healthy.
Do's
Co-wash before the first wear
Shampoo & condition weekly.
Sleep on satin pillowcase or use satin/silk bonnet.
Comb hair daily
Braid hair or put in ponytail for bed
Don'ts
Blow dry on high heat
Sleep on wet hair
Use heavy leave-in conditioners
VIII. Indian raw hair & Burmese raw hair Comparison?
Indian hair vs Burmese hair is one of the most popular and well-known among clients all over the world. The two hairs have distinct qualities that satisfy the needs of their respective clientele. This post is for you if you are a hair vendor attempting to find out which one is best for your business. It will provide you with a full understanding of Indian hair vs Burmese hair and how to choose the best for your hair company.
1. The similarities
In both countries, ladies give their hair to the temples. This is one of their traditions for wishing the hair a better life. As a result, the hair is both resilient and durable.
It's worth noting that it's available in a variety of styles, from straight to wavy; thus, if you prefer those hairstyles, it'll be a fantastic fit. The hair returns to its natural straight texture after being washed. After the hair is collected, it is shipped to China, Japan, and other nations for packaging.
2. The differences
Indian Raw Hair

Burmese Raw Hair

ORIGIN

100% Indian hair

From different sources, including both human natural hair from pilgrims and other mixed ones

TEXTURE

Very light, airy, full of bounce, and easy to style

More heavier, great for blunt cut, holds a curl well and also does well with coloring.

PRICE

Reasonable price

Diverse base on quality

STOCK

The robust stock of materials

(from 2 significant sources we listed below )

It is not always possible to obtain high-quality ( normally at the start of the year)
3. How to recognize Indian Raw hair vs Burmese Raw hair
By outlook characteristics
To recognize between Indian hair vs Burmese hair, you can take a look or touch at the characteristics of the two hairs. If the hair is very thick, coarse, and looks natural, it's Indian hair. And opposite, if the hair is much heavier, less grey hair, not silky as Indian hair, its Burmese hair.