Vietnam Raw Hair
Nowsaday, as the popularity of hair extensions grow, consumers are becoming more and more educated about options available to them in regards to price, quality and variety. With so many different types of hair extensions offered on the market today, from wigs to bundles to raw hair to virgin hair and so much more, hair extensions becomes hard to understand the true meaning of what's really out there in hair extensions so we write this article to give you some fundalmentals of hair extensions which you need to know before purchasing any type of human hair weave extensions. So let's start!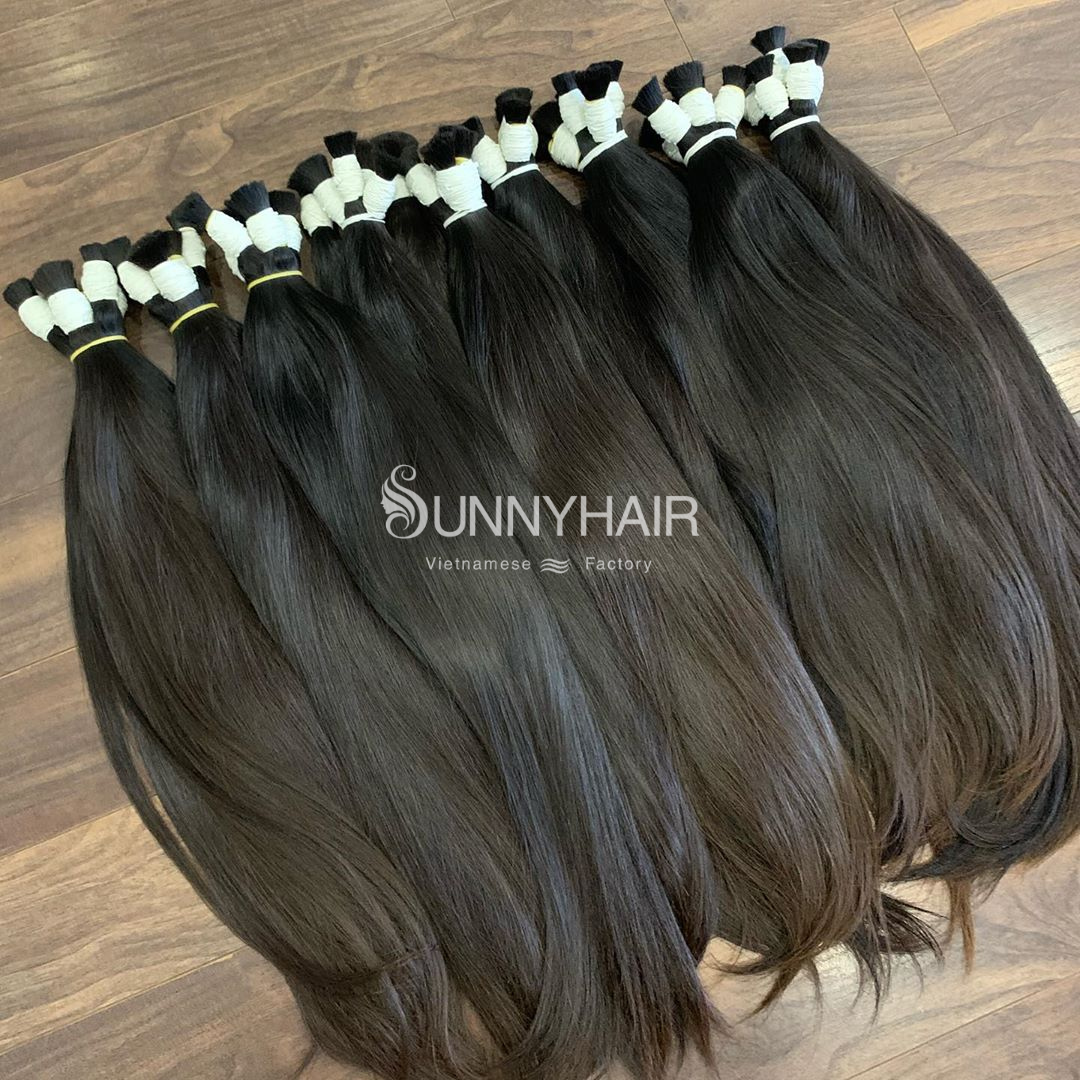 Raw hair is exactly as its name: it's raw, unprocessed, 100% human hair. When you talk about unprocessed this means this type of hair has not undergone any chemical, heat or steam processing. On the market, raw hair is the most purest and natural form of hair available which is great in that the quality is top notch and can literally last you years.
a, The advantage of Vietnam Raw Hair
The advantage of raw hair is that no two bundles are the same. They won't be very different form each other but never identical and that because the hair is not steamed to from uniformed patterns. The definition of raw hair used to express that the hair was not only chemically and heat unprocessed but also single donor.
Single donor hair is a bundle of hair that is cut only from one donor. With the demand of raw hair it's become increasing difficult for larger hair business companies to provide a full bundle of single donor hair consistently. So, raw hair can also mean multiple donors as long as the hair is not processed in any way.
b, The disadvantage of Vietnam Raw Hair
The disadvantage of human raw hair is the availability of variety. As it is mostly collected form Indian, Cambodian, Vietnamese and Burmese donors so the hair patterns don't vary all that much so you won't get those hot trendy styles like tight curly or body wave easily, if at all.
On the market you can usually find 2 styles availabled of the human raw hair which is straight and natural wave or wavy. Raw hair is usually less silky and very slightly closer to coarser textures when compared to virgin hair. Raw hair can also be available in curly hair patterns also.
2, The difference between Vietnam Raw Hair, Virigin Hair, Remy Hair and Non – Remy Hair
In order to give you more knowledge about hair extensions and the diffierence between Vietnam raw hair, virgin hair, remy hair and non remy hair, in this article we will be giving you the definitions of every single type of hair. We know while you're reading this you're probably wondering that "Wait a minute, aren't Vietnam raw hair and Vietnam virgin hair they the same thing"? Look if you wanted to be a completely satisfied customer or clientele of any hair company, you've got to know what you're investing you're hard earn money in.
a, What's virgin hair?
So let's start with a much more popular term in the world of hair extensions, Virgin hair. Virgin hair is 100% real human hair that has never been altered by a chemical process. Virgin hair is the highest quality human hair available in the market. This kind of hair is expensive, but it lasts longer than remy hair, making it worth the investment. Virgin hair means that when hair is collected, it is obtained from donors. This means that the hair has never been chemically treated (free of stickiness, hair color etc.) and comes from a person with long healthy hair. Virgin hair usually comes from young women, so there are no gray hairs or split ends. When choosing virgin hair, the hair donor must have the full human hair. When collected, it is usually hand selected from thick, full, long horsetails. Regular Human Hair extension should last for one year with regular maintenance.
The most popular kinds of virgin hair are: Peruvian – coarser, thicker, durable. Brazilian – light, shiny, silky. Malaysian – heavier, softer, silkier. Please be aware that hair does not originate from the countries and areas they are named after.
Visit our website for more Virgin Hair Extensions
b, What's Remy hair?
Remy Hair refers to the alignment of the hair cuticle, or the outermost layer of the hair shaft. It is collected from the donor in a way that keeps the hair's cuticles aligned and going in the same direction. When the cuticles are intact, the hair stays silky smooth and is less prone to annoyances like tangling, shedding and flyaways. This eliminates the common tangles in non-Remy hair or low quality, usually REMY Human Hair extensions should last up to 3 to 6 months with regular maintenance.
Visit our website for more Remy Hair Extensions
c, What's Non – Remy hair?
Non-Remy hair is usually taken from the floors of temples, salons and random suppliers, with this method of collection, the path of the cuticle becomes mixed, causing inevitable trouble. away, tangled and worn problems. To conceal problems that arise with non-wig hair, hair suppliers use harsh chemicals to cut the cuticles completely and then use a large amount of silicone to make the hair turn out so soft and smooth. Hair feels soft and soft at first, however, after a few rinses, the silicone layer smells and the hair is very brittle, and begins to grow and become tangled. Problems will arise after several washes and will not last more than a few Wash and cannot be used again. Also, since the cuticles are stripped and are no longer intact, the hair extensions cannot withstand color or heat treatment.
3, Types of Raw Hair/ Vietnam Raw Hair
Burma Raw Hair: Raw Burmese hair is extremely popular and favored by customers and usually comes in those lighter brown colors which may be a pro if you need to blend it with lighter colored natural leave outs.
THE ORIGIN OF BURMESE HAIR
Sunny Hair offers various high quality Burmese hair extension products at most competitive price among human hair manufacturers in Vietnam and Burma. The Burmese hair is sourced from Hindu temples. The local women of the country will sacrifice their hair in donation to the temple. Every about 20 women and girls come to Shwe San Pin (Golden Hair) hair donation center, which was founded by a monk to donate their hair. Some local Burmese women will acquire money to pay for school or medical bills.
OUTSTANDING FEATURES OF BURMESE HAIR
First, Burmese hair is famous for its versatility. It is not as silky as Indian hair, and not as coarse as Chinese hair. It features the blend of Chinese and Indian hair, which then takes on the perfect attributes of both sides. Therefore, it's a great hair texture to well hold curl.
Second, t

hanks to the usage of a lot of natural methods to wash and nourish the hair, Burmese women and girls tend to have less grey hair. They usually cleansing and rinsing the hair with the rice water to reduce the grey hair, restore the PH balance, and keep the hair long and healthy.

Third, Burmese hair has a wide range of hair texture. Like any other hair extensions in the market, you can have it in straight, wavy, body wave or curly hair and any additional texture in between. The most preferred though by many is the straight and wavy hair just because its more natural.
Last, containing its strong and healthy features of Southest Asian hair, Burmese hair can last about over 1 year and still silky as long as you take cae of it properly after styling.
Vietnamese Raw Hair: Raw Vietnamese is bomb in their straight texture. Super smooth and are perfect for those smooth sleek looks. The texture is also great for blending with natural hair. Vietnam raw hair has a high quality and definitely, and it is one of the most well-known in the Southeast Asia regions. Also, many foreigners find it very amazing to use it.
WHY YOU SHOULD CHOOSE VIETNAMESE HAIR EXTENSIONS?

First,

Southeast Asian Hair, in particular Vietnamese Hair is famous for its strong, thick and healthy cuticles. Therefore, it can last long and durable other kinds of hair after being curled, and straightened.
Second,

the Vietnamese hair has some beautiful waves and has a natural shine. In fact, this hair has gained so much popularity owing to it being healthy, smooth and shiny.
Cambodian Raw Hair: is very full body and most known to have curlier styles available.
THE ORIGIN OF CAMBODIAN HAIR
Sunny Cambodian hair have been collected directly from the Khmer ethnic group in Khmer Loeu Village which is about 45 miles away from the center. Those hair are purchased fairly and freely. All of our hair units bearing the 100% Natural Cambodian Hair labels are sourced via local our agency in Cambodia.
WHY SHOULD CHOOSE CAMBODIAN HAIR?
First, Cambodian hair

comeing into various kinds of texture – straight, wavy and curly make more choices for you to choose the right, or suitable with your own hair. Moreover, it's more durable, and stronger than European Hair because Cambodian hair owns a thick cuticles.

Second, Cambodian hair has an affordable price compared with Europe, or Brazillian Hair. A 10 inches wavy bundle will only cost around $25. That means you can grab a lot of them and start off your own business with low budget. Also, pride your brand "luxury" as what you are going to sell is even beyond that.
Third, Cambodian hair is quite popular and easy to find from several sources. We are proud of our hair resources because we have trustworthy local suppliers in Cambodia who provides good quality hair directly to us.
Laos Raw Hair: Laos is the least developed Asian landlocked country surrounded by China in the north, Burma (Myanmar) to the north-west, Thailand in the south-west, Cambodia (Kampuchia) in the south-east, and Vietnam to the east.
Laotian Hair is mostly sourced from the Laos's temples as well as local Laos's women in rural areas donating their hair. Local Laos's women will sacrifice their hair in donation to the temple. And then all hair is sold or exchanged freely and fairly to the Laotian hair collecting agency.
LAOTIAN HAIR FEATURES
These are 100% natural hair because they are donated by women. All hair sourced from Laos is 100% natural virgin hair.

First, let's do away with the stereotype that all Asian hair has a kind of black, and thick. However, Asian has a variety of textures and the type of hair can range from poker straight to wavy and even to very curly. In Laos, Hair varies from straight to wavy.
Second, Laotian hair is typically thicker in texture than the alternatives due to the larger scale of the cuticle. This type of hair is similar to hair sourced from the region–mostly Vietnam, Cambodia and Malaysia. Therefore, Laotian hair is a good option because it has a great bounce and heavy body.
Third,

due to the climate of Laos, Laotian Hair is mostly bleached by sun. The hair color has usually a range of black shades such as off-black, jet black, black brown.
4, How to choose Vietnam Raw Hair
There is no way for us to decipher if hair is truly raw or truly virgin hair until you try it for yourself, but we have some tips which will help you during your buying process:
First, READ CLEARLY THE NAME OF THE PRODUCT: we're looking for a raw hair extension so for sure you need to find the key word "Raw hair" in the product name that should be your indicator. Otherwise it could still end up being virgin hair marketed as Indian or etc because of its name popularity.
Second, CHECK PRODUCT DESCRIPTION: Check for the word Raw or Raw Grade in the product description and even discussion area of the product. The more information you know about the product, the more easier for you to purchase the right raw hair extension.
Third, ASK DIRECTLY THE COMPANY: If even after reading the product description you can't still figure out if this product is made of raw hair or not, go straight away and ask the company- a quick email or call is worth it especially if your going to be investing money into it.
Fourth, READ REVIEWS: Among our tips for you, this tip is absolutely a step that you shouldn't skip especially if its your first time buying hair from a company (online). By reading reviews of the buyers, you will have a chance to know more about the "real" product, give you insight into customer experience and what they really think of the hair. Sometimes you will find reviews on a company's product page and sometimes you will have to dig deeper and do a google search or even a YouTube search.
Use a trusted company. Companies like ours Sunny Hair Vietnam offer both virgin, raw hair extensions and more beautifull styles of hair extensions, visit our main website to find more. Our reviews can be found on Instagram, Facebook, Google and in our product pages.
Lastly, TRY THE HAIR. The best way to ever know is trying the hair for yourself. As soon as you get it touch it, brush it, comb it examine it etc. while still in its bundle. That way you can return it or exchange it (depending on the company`s policy) if you don`t like it. If you have the luxury of going into a store even better! Please note the real test comes in after a wash and with time.
5, Best Vietnamese company for Vietnam Raw Hair
To save your time and money, not to buy wrong products that has the low quality of hair or took a lot of time to find a company that sell good products for you, we will introduce you some great hair company un Vietnam. Vietnamese hair was searched for so much these time lately. Vietnamese hair was well-known by its beautifully amazing texture and it is very interesting to know more about the top 5 famous brands of hair suppliers in Vietnam.
Vietnam Sunny Hair – Vietnam Raw Hair

Sunny (Hair) Vietnam Trading and Import-Export Investment Joint Stock Company, established in the early of 2010, is one of the leading companies in Vietnam hair market for women. Besides manufacturing various kinds of hair products such as hair extensions, wigs, bulk hair, weft hair, etc. with many textures; Sunny Hair Vietnam also operates in the fields of exporting hair to all countries over the world. With more than 10 years of establishment and development, we are constantly enhancing our vision and mission to develop more and become the leading hair exporter in the worldwide hair market.
Website: https://vietnamhairsuppliers.com/
Contact:
Mail: [email protected]
Whatsapp: +(84) 988-767-599
Address: A8, Laser Block, Alley 59, Hoang Cau Street, Dong Da District, Hanoi
Bee Queen Hair – Vietnam Raw Hair
Being a leading hair supplier from Vietnam, Beequeenhair has supplied hair extensions with excellent quality to customers all over the world.
All of the products we supply are made from 100% remy hair. We use only Vietnamese women's natural hair which is soft, smooth, strong and absolutely free of insects and bugs. Processed and checked carefully, our products can be used for a very long time. We offer you a wide range of products with different textures, colors, lengths, types of hair end.
Apo Hair Company – Vietnam Raw Hair
APO Import Export Joint Stock Company, established on 10th, September, 2011, is one of the leading companies in Vietnam operating in the field of exporting hair to the international market. Over 10 years of establishment and development, we are constantly enhancing our vision and mission to develop more and become the leading hair exporter in the worldwide hair market. We always do business with slogan "Reputation is more valuable than gold", in which we improve our products quality continuously to keep in customer's faith.
Lewigs Hair Company – Vietnam Raw Hair
Lewigs is a renowned human hair replacement system supplier, striving for the cause of helping people overcome their hair loss fear. We work enthusiastically to empower individuals with hair loss by providing tailor-made hairpieces, including hair toupee, hair topper, and wig that allow them to feel like themselves again.
McSara Company – Vietnam Raw Hair
We are MCSARA, one of the Vietnam leading companies which exports various types of Vietnamese hair to foreign customers all over world. We started our business since 2014. Since then, we have been growing to be the leading company which supplies Vietnam remy hair products
Please follow the steps below as our suggestion for your orders:
Search for your prefered products from our website http://vietnamhairsuppliers.com
Select your final ones and send its name with detailed description ( texture, length, color, style…) to our email

[email protected]

or send message or call our Hotline +84 988 767 599. You can also contact our sales staffs directly via Whatsapp, Skype by clicking on your right-hand side. We have different representatives speaking languages (English, French, Italian, Spanish) to support you at any time.
Confirm your final decision with us regarding types, lengths, color and quantity.
We will send out order confirmation with invoice for your reference then payment.
Order will be processed and packed properly before sending to Logistics Providers.
Pricing and Currency Conversion – Vietnam Raw Hair
All prices quoted in US dollars. If you would like to quoted in a different currency, the online currency converter https://www.xe.com/ is recommended.
Payment Options – Vietnam Raw Hair
We accept all major credit cards (Visa, MasterCard, American Express), Western Union, Money Gram or Bank Transfer.
International Transaction Fee – Vietnam Raw Hair
Sunny Hair is a Vietnamese operated company based in Hanoi, Vietnam, with shipping facilities worldwide. If you are ordering outside of Vietnam, a part from shipping fee, your credit card company or your local bank or intermediary bank might charge you a fee between $1-$10 that might display as if it was charged by Sunny Hair BUT this fee is not charged by Sunny Hair because you are purchasing something outside of your country of origin. Please contact your credit card provider or bank directly in regards to this charge.
Payment Safety – Vietnam Raw Hair
No card information is ever saved at Sunny Hair and it remains the private property of the card holder at all times before, during, and after the products purchase. All transactions are processed through secure forms of payment which are used by millions of people daily and are heavily encrypted third party-payment processors.
We take many active steps to ensure the absolute safety of your credit card and personal information. Sunny Hair does NOT keep credit card information on record.
SHIPPING AND VERIFICATION – Vietnam Raw Hair
Please make sure that you enter the correct billing address and contact information as it appears on your bank or credit card statement. Transactions may not go through if the information entered does not match exactly what your bank or credit card provider has on file. Some transactions may also be held for further verification by our customer experience team. Make sure to also enter the correct shipping address (street number and name, city, state, and zip code) as we are not liable for packages that are sent to the wrong address when the address information is not entered correctly.
It all started back in 2010, CEO Mr. Sunny Pham opened a modest factory located in the outskirts of Hanoi. He and the co-founders draw on experiences to create initial hair extensions, providing domestic needs. After 5 years, in 2015, it led Mr. Pham down a journey of uniquely sourcing a variety of hair textures from Burma, Malaysia, Cambodia. Over the last 10 years, he discovered time-saving techniques and longer lasting, higher quality hair extensions.
Nowadays, Sunny Vietnam Hair is the premium hair manufacturing company in Vietnam, providing top-quality hair products and services to distributors, vendors, salons, and online store owners around the world.
Sunny Vietnam Hair provides natural human hair extensions to wholesalers, hair sellers, distributors, retailers, beauty or hair salons, online stores, and hair stylists around the world. Sunny Vietnam Hair supplies virgin Vietnam hair, Cambodia hair, Malaysian hair, Indian hair, closures, colored Remy hair, and more.
Our Factory Vision - Vietnam Raw Hair
High position in Vietnam's market is just the beginning of our journey to reach the top. Indeed, Sunny Vietnam Hair intends to become the top global manufacturer for all countries around the world.
Sunny Vietnam Hair aims to be the most prestigious and trustworthy human hair manufacturer globally with ultimate qualified products.
We are putting enormous effort in building durable cooperation with Africa's market, including Nigeria, Brazil, etc. In fact, Sunny Vietnam Hair has two fully dedicated hair factories in the outskirts of Hanoi and two representative offices in Hanoi and Ho Chi Minh City.
Furthermore, Sunny Vietnam hair is also willing to approach potential markets such as Europe because our products are certainly qualified in all aspects.
Therefore, a strong worldwide hair business network is undoubtedly within our reach.
Our Factory Missions - Vietnam Raw Hair
First of all, to be the most reliable and trustworthy natural hair manufacturer in Vietnam.
Secondly, to offer our customers great services, top quality products at competitive prices.
Thirdly, the responsibility of Sunny Vietnam hair is to raise the beauty of every woman, enhancing their belief so that they can be more self-confident.
Last but not least, Sunny Vietnam Hair strives to be an ideal environment for all company members and partners to improve themselves, show their passion and realize their dreams.
Our Factory Main Values - Vietnam Raw Hair
Your client's beautiful looks: Sunny Hair Factory is committed to provide the best value to all our business partners, and be the most trustworthy supplier for all your client's hair beauty needs.
Customer focus: customers satisfaction and loyalty oriented
Competitive prices: best price for high standard products
Our Promise to you - Vietnam Raw Hair
Beautiful hair is only the beginning. We're committed to giving you the best hair at the best price. Our mission is to help women look and feel beautiful every day. Being women ourselves, we understand you and your client's needs. Furthermore, we want to have a long lasting relationship with you by giving you the best hair and the best service.
Sunny Hair Vietnam is the embodiment of every single lady in this world! You are all beautiful, glam, sophisticated, wise, elegant. Our company was created because every woman in this world deserves long luscious locks that are 100% Human Remy Hair, easy to apply, and extremely discreet.
At Sunny Hair Vietnam – The best hair factory in Vietnam, your happiness and satisfaction with your Sunny Hair Vietnam is always at the top of our priority list. We pride ourselves on our excellent customer service and being there with you every step of the way, from the time before you purchase your Sunny Hair Extensions, through its delivery, and after.
We promise that we will be there to answer all your questions and you never have to feel like you're alone!
We pay attention to our lovely customers and only want you to have the best experience possible with Sunny Hair Vietnam!
Join the Sunny Vietnam Hair world & become a part of us today, you deserve it!
Our Sunny Hair Vietnam Factory
8, Services provided by us – Vietnam Raw Hair
Sunny Hair Vietnam provides a wide range of hair extensions products including clip-in, keratin tip, tape, weft, and bulk hair made from 100% human hair. The origin of hair almost comes from Southeast Asian countries such as Vietnam, Laos, Myanmar, Cambodia, Burma to ensure the diversity of hair textures.
In the Sunny hair Vietnam factory, the products must go through many processes before getting to customers:
First, each strand is selected carefully after cut from donors to rule out short and bad quality hair.
Second, all the hair is washed carefully and then made into the weft, tip/tape hair extensions, wigs by skillful hands of qualified workers.
Last, all the products go through a strict quality control process to ensure all the hair is absolutely perfect.
Types of products - Vietnam Raw Hair:
Single Drawn Hair: Remy natural human hair of good quality with straight, wavy and curly textures and natural colors in various sizes from 30cm to 80cm or more
Double Drawn Hair: Remy natural human hair of better quality with straight, wavy and curly textures and natural colors in various sizes from 30cm to 80cm or more
Machine Weft Hair: Various kinds of human hair with all natural colors and textures are processed with modern tools and equipment by skilled workers to produce hair products with premium quality.
I – U – V – Flat Tip, Clip-In Hair, Tape Hair: Super easy to use, long lifespan, various length, textures and color. All for your hairstyle options without waxes, glues and damage to your own hair.
Lace Closure (Wigs): We produce wigs with 100% natural human hair of all styles, color and texture for your choice. Choose your style and make your identity to be a new you.
Super high Quality Color Hair: includes 100% natural, remy hair with top quality which is processed by modern equipment to produce products which are natural-looking, shiny, silky, smooth and soft.
Virgin Human Hair – No Mix: includes 100% natural, remy hair cut off from one head, unprocessed, not dyed, without nits, in the same direction.
Products as Special Order (size, quality, color): As per or special requirements for the length (up to 90cm -100cm or 36-40 inches), for the quality of super good hair, for the color of natural looking beauty.
Sunny Vietnam Hair extensions and wigs are made entirely from Remy Human Hair. Remy hair is the highest grade of human hair with the cuticles kept intact to prevent tangling and prolong the lifespan of your extensions. The hair is meticulously sorted to select only the finest strands of desired length and aligned in a unidirectional fashion. This process ensures that the hair remains ultra soft, shiny, silky, and tangle-free throughout its lifetime.
The Vietnamese manufacturers for Sunny Vietnam Hair not just take their time in manufacturing them, they also take the responsibility of shipping their products worldwide. The manufacturing process is conducted by a team of professionals who holds a great deal of reputation and experience in the hair industry. Our hair extension goes through a good amount of testing for quality, so that our customers can have the best products according to their needs.